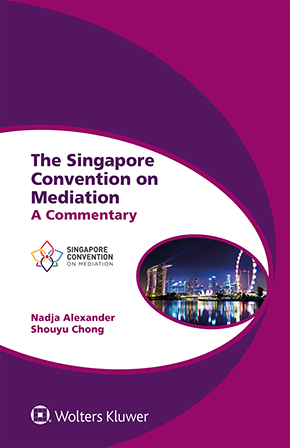 The Singapore Convention on Mediation: A Commentary
Format
Hardbound
Hardbound
Available: Ships in 5-7 Business Days
Price
This product is available for the standing order program.
Add to Cart
The Singapore Convention on Mediation is just beginning its life as an international legal instrument. How is it likely to fare? In this first comprehensive, article-by-article commentary, the authors provide a robust report on the features of the Convention and their implications, with analysis of potential controversies and authoritative clarifications of particular provisions.
The book's meticulous examination considers these issues and topics:
international mediated settlement agreements as a new type of legal instrument in international law
types of settlement agreements that fall within the scope of the Convention
how the Convention's enforcement mechanism works
the meaning of 'international' and the absence of a seat of mediation
the Convention's approach to recognition and enforcement of international mediated settlement agreements
the grounds for refusal to grant relief under the Convention
mediator misconduct as a ground for refusal to grant relief
the impact of the Convention on private international law
the relationship of the Singapore Convention to other international instruments such as the UN Model Law on International Commercial Mediation and the New York Convention on Arbitration
possibilities for Contracting States to declare reservations
This book takes a giant step towards relieving the inherent uncertainty associated with how this newly constituted instrument may operate, and how States may become 'Convention ready'. It is sure to become an essential reference for international lawyers, mediators and government officials as the Convention proves itself in the coming years.
| | |
| --- | --- |
| Last Updated | 10/10/2019 |
| Update Frequency | As Needed |
| Product Line | Kluwer Law International |
| ISBN | 9789403514819 |
| SKU | 10073406-0001 |
About the Authors
List of Contributors and Researchers
An Introduction
Article 1. Scope of Application
Article 2. Definitions
Article 3. General Principles
Article 4. Requirements for Reliance on Settlement Agreements
Article 5. Grounds for Refusing to Grant Relief
Articles 5(1)(a)–(d). Contract-Related Grounds for Refusal
Articles 5(1)(e)–(f). Mediator Conduct-Related Grounds for Refusal
Article 5(2). Public Policy and Subject Matter-Related Grounds for Refusal
Three Reflections on Article 5
Article 6. Parallel Applications or Claims
Article 7. Other Laws or Treaties
Article 8. Reservations
Article 9. Effect on Settlement Agreements
Article 10. Depositary
Article 11. Signature, Ratification, Acceptance, Approval, Accession
Article 12. Participation by Regional Economic Integration Organizations
Article 13. Non-unified Legal Systems
Article 14. Entry into Force
Article 15. Amendment
Article 16. Denunciations
Appendix A – United Nations Convention on International Settlement Agreements Resulting from Mediation
Appendix B – UNCITRAL Model Law on International Commercial Mediation and International Settlement Agreements Resulting from
Mediation, 2018 (amending the UNCITRAL Model Law on International Commercial Conciliation, 2002)
Appendix C – Mediation Clauses
Appendix D – International Mediation Institute (IMI) Model Rules
Appendix E – Singapore International Mediation Centre (SIMC) Mediation Rules
Appendix F – Singapore International Mediation Institute (SIMI) Code of Professional Conduct for SIMI Mediators
See what our clients are saying:
"...this book is essential reading for all who have an interest in the new recognition and enforcement regime in international commercial mediation."

Robert Morgan, Barrister & Consulting/Technical Editor - Asian Dispute Review

Asian Dispute Review | January 2020 Issue

"This thorough book is enlightening, practical, clear and readable. It is both a reference work and, in a way, a storybook. As international commercial disputes become more frequently mediated than litigated or arbitrated, The Singapore Convention: A Commentary is essential knowledge for every party, practitioner and dispute resolver. The authors have done an outstanding job."

Michael Leathes, Co-Founder & former Director of the International Mediation Institute (IMI)

Mediate.com | March 2020