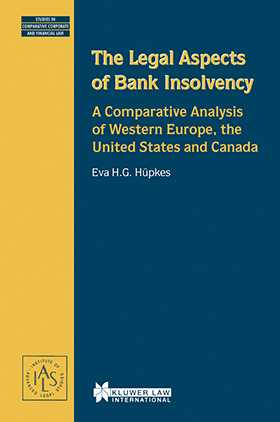 The Legal Aspects of Bank Insolvency, A Comparative Analysis of Western Europe, The United States and Canada
Format
Hardbound
Hardbound
Available: Ships in 3-5 Business Days
Price
This product is available for the standing order program.
Add to Cart
Until recent years, formal bank insolvency proceedings were rare occurrences, with governments more often than not coming to the rescue of failing banks. As a result, few studies relating to bank failure have paid much attention to the regulatory framework for failing banks and the conduct of formal bank insolvency proceedings. However, in the aftermath of the Asian financial crisis, more attention has been focused on issues of bank insolvency.
Structural reforms in the banking sector of various Asian countries, in particular the implementation of effective exit rules to expel insolvent and non-viable banks from the market, have been considered of primary importance to restoring confidence in the troubled banking sector. In addition, the ability of governments within the European Union to rescue insolvent banks has been significantly limited by strict rules on competition, suggesting that failing banks will become increasingly subject to insolvency proceedings.
The Legal Aspects of Bank Insolvency compares the legal framework for dealing with insolvent banks in Western Europe, the United States and Canada, identifying the distinctive features of each regime and discussing the main issues and choices in dealing with failing banks. It also examines the implications of a cross-border bank insolvency, and considers different approaches to the problems it raises, including the supranational approach of the proposed European Directive on the Reorganization and Winding-up of Credit Institutions.
This work will be of value to lawmakers, to consultants and scholars engaged in technical assistance work, and to those who advise the legislators and officials involved in devising a legal framework for bank insolvency. It will also be of interest to practitioners and in-house counsel working in the field of banking and corporate law.
| | |
| --- | --- |
| Pages | 224 |
| Last Updated | 04/01/1980 |
| Update Frequency | As Needed |
| Product Line | Kluwer Law International |
| ISBN | 9789041197696 |
| SKU | 10058657-0001 |
The Specialness of Banks Implications for the Legal and Institutional Framework
Enforcement of Prudential Regulations
The Legal Framework for Bank Insolvency
Resolution of Bank Insolvencies
Control of Bank Regulatory Decisions
Liability of the Banking Supervisory Authority
Multinational Bank