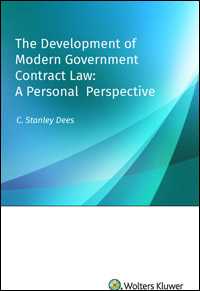 The Development of Modern Government Contract Law: A Personal Perspective
Select Format
Internet price is for a three-month subscription.
Softcover
Internet
Softcover
Price
Quantity Pricing Available
Add to Cart
Internet
Price
Includes 3-month access for one license. Need a demo or annual access?
Contact Sales
Add to Cart
Please note, once you complete your purchase, Cheetah registration instructions and login credentials to access your 3-month online subscription will be emailed to you within one business day.
This unique resource identifies and analyzes fourteen major legal issues in government contract law and highlights three important legislative changes that have occurred over the past 50 years and altered the practice of law.
Authored by C. Stanley Dees, who was directly involved in many of the landmark cases examined here, this one-of-a-kind resource delivers a level of insight and historical perspective no other reference can match.
Only The Development of Modern Government Contract Law: A Personal Perspective describes the evolution of government contract law and practice, thoroughly examining each of the subject areas and delivering unmatched insight and analysis. No book today provides the personal perspective of a practitioner who tried or argued key cases in many of these important areas.
With The Development of Modern Government Contract Law, you'll gain:
Important insight to case law controlling fourteen separate major legal issues in government contract law
Thorough analysis of the three important legislative changes that occurred over the past half-century which altered the way attorneys practice
Direct insights into approaches to managing apparently contradictory precedents
As government contract law becomes increasingly complex, every legal professional must understand the elemental issues that structure the law. The past half century has formed the foundation period of modern government contract law, and C. Stanley Dees has been directly involved every step of the way. Quite simply, it would be difficult to develop true expertise in this practice area without taking advantage of the insights and analysis provided in this unique work on government contract law.
Extensively researched, thoroughly footnoted, and with a full Table of Cases, The Development of Modern Government Contract Law: A Personal Perspective covers:
Early Government Contract Law
Incorporating Clauses by Operation of Law: The G.L. Christian Case
Constructive Acceleration: The Electronic & Missile Facilities, Inc. Case
Fact Versus Judgment: The E-Systems Case
Allocation of Necessary Costs to Overhead: The General Dynamics Case
Cardinal Changes—Breach to Bid Protest: AT&T Communications v. Wiltel
Illegal Contracts: Before and After the AT&T Case
Recovery of Unabsorbed Overhead: The Eichleay Formula, Used and Abused
Structural Reform: Legislative Changes 1978–84
Loss of the Shuttle Challenger: The Changing Practice of Law
GSA Procurement of Telecommunications and the "Mother" of All Bid Protests
Fixed-Price Procurements for Development of Major Systems: Lockheed, Litton, General Dynamics, et al.
Recovery of Interest: A History of Inequity and Error
The Administrative Procedure Act: Jurisdiction in Contract Cases
The Federal Circuit: Changing Direction? [Five areas where the court has reversed precedents]
The Development of Modern Government Contract Law: A Personal Perspective is a foundational, must-have resource for every legal professional practicing in the government contracts arena, delivering invaluable insights and perspective that will directly inform the reader how to manage specific legal issues.
Note: Online subscriptions are for three-month periods.
| | |
| --- | --- |
| Pages | 260 |
| Publish Date | 10/27/2016 |
| Publish Frequency | Annually |
| Product Line | Wolters Kluwer Legal & Regulatory U.S. |
| ISBN | 9781454886266 |
| SKU | 10040886-0001 |
| | |
| --- | --- |
| Publish Frequency | Annually |
| Product Line | Wolters Kluwer Legal & Regulatory U.S. |
| SKU | 000000000010073271 |
CHAPTER 1. Early Government Contract Law
CHAPTER 2. Incorporating Clauses by Operation of Law: The G.L. Christian Case
CHAPTER 3. Constructive Acceleration: The Electronic & Missile Facilities, Inc. Case
CHAPTER 4. Fact Versus Judgment: The E-Systems Case
CHAPTER 5. Allocation of Necessary Costs To Overhead: The General Dynamics Case
CHAPTER 6. Cardinal Changes—Breach to Bid Protest AT&T Communications v. Wiltel
CHAPTER 7. Illegal Contracts: Before and After the AT&T Case
CHAPTER 8. Recovery of Unabsorbed Overhead: The Eichleay Formula, Used and Abused
CHAPTER 9. Structural Reform: Legislative Changes 1978–84
CHAPTER 10. Loss of the Shuttle Challenger: The Changing Practice of Law
CHAPTER 11. GSA Procurement of Telecommunications and the "Mother" of All Bid Protests
CHAPTER 12. Fixed-Price Procurements for Development of Major Systems: Lockheed, Litton, General Dynamics, et al
CHAPTER 13. Recovery of Interest: A History of Inequity and Error
CHAPTER 14. The Administrative Procedure Act: Jurisdiction in Contract Cases
CHAPTER 15. The Federal Circuit: Changing Direction?
Table of Cases
Subject Index