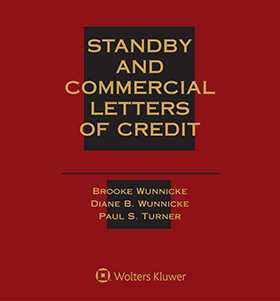 Standby and Commercial Letters of Credit, Third Edition
Select Format
Internet price is for a three-month subscription.
Looseleaf
Internet
Looseleaf
Available: Ships in 3-5 Business Days
Price
This product is available for the standing order program.
Add to Cart
Internet
Price
Includes 3-month access for one license. Need a demo or annual access?
Contact Sales
Add to Cart
Please note, once you complete your purchase, Cheetah registration instructions and login credentials to access your 3-month online subscription will be emailed to you within one business day.
Standby and Commercial Letters of Credit, Third Edition alerts you to current developments and discusses the recent UCP600, former UCP500, ISP98, UCC Article 5, and current trade practices and problems. The authors review letter of credit law and practices, helping to resolve concerns of applicants, beneficiaries, and issuers.
This essential resource includes:
Sample forms and clauses, procedures and checklists
Current court cases and extensive Table of Cases
What can happen to letters of credit in bankruptcy and insolvency proceedings
Fraud and injunction nightmares
Cross-reference table UCP600 and UCP500
Strategies for bank reimbursement agreements
Standby and Commercial Letters of Credit, Third Edition gives you immediate guidance when you need it most. And it supplies real-world letters of credit situations, with analyses of what was done right and wrong.
Note: Online subscriptions are for three-month periods.
| | |
| --- | --- |
| Last Updated | 07/08/2021 |
| Update Frequency | Annually |
| Product Line | Wolters Kluwer Legal & Regulatory U.S. |
| ISBN | 9780735517332 |
| SKU | 10046440-7777 |
| | |
| --- | --- |
| Publish Frequency | Annually |
| Product Line | Wolters Kluwer Legal & Regulatory U.S. |
| SKU | 000000000010071780 |
Chapter 1. Meet This Book
§1.01 If You Read No Further …
§1.02 The Third Edition: For Whom and What's New
§1.03 Letters of Credit: A Thumbnail History
§1.04 Risks of Letters of Credit: Tough Times Checklist
§1.05 Letters of Credit vis-à-vis Contracts
§1.06 "The Program": Terminology in This Book
Chapter 2. Definitions and Distinctions
§2.01 Definitions About Letters of Credit Quibbler's Corner—What's in a Name?
§2.02 Commercial Letters of Credit
§2.03 Drafts and Banker's Acceptances
§2.04 Standby Letters of Credit
§2.05 Use of Definitions
§2.06 The Independence Principle
§2.07 Distinctions from Other Instruments
§2.08 International Demand Guarantees
§2.09 Documentary Collection
§2.10 "Standard Banking Practice"
§2.11 Trade Finance Alternatives
Chapter 3. Nomenclature for Credits
§3.01 Introduction
§3.02 Acceptance Credit
§3.03 Advised Credit and Specially Advised Credit
§3.04 Back-to-Back Credit
§3.05 Circular Credit and Circular Negotiation Credit
§3.06 Clean Credit
§3.07 Commercial Letter of Credit
§3.08 Confirmed Credit
§3.09 Counter Credit
§3.10 Deferred Payment or Deferred Sight Credit
§3.10A Direct Pay Credit
§3.11 Documentary Credit
§3.12 Domestic Credit
§3.13 Financial Guarantee-Type Standby Letter of Credit
§3.14 Firm Credit
§3.15 Foreign, Export-Import, or Transit Credit
§3.16 Inoperative Credit
§3.17 Irrevocable Credit
§3.18 Negotiation and Nomination: Discussion
§3.19 Negotiation Credit
§3.20 Notation Credit
§3.21 Open or General Credit
§3.22 Partial Performance Credit
§3.23 Performance-Based Standby Letter of Credit
§3.24 Postoperative Credit
§3.25 Preadvised Credit
§3.26 Preoperative Credit
§3.27 Red Clause or Anticipatory Credit
§3.28 Reimbursement Credit
§3.29 Revocable Credit
§3.30 Revolving Credit
§3.31 Sight or Payment Credit
§3.32 Silent Confirmation
§3.33 Simple Credit
§3.34 Straight Credit
§3.35 Teletransmission Credit
§3.36 Third-Party Credits
§3.37 Transferable Credit
§3.38 Two-Party Credit
§3.39 Usance Credit
Chapter 4. Article 5 of The Uniform Commercial Code
§4.01 UCC: Introduction
§4.02 UCC: Fundamentals of a Letter of Credit
§4.03 UCC: Adviser's Obligations, §5-107(c)
§4.04 UCC: Issuer's Obligations, §5-108
§4.05 UCC: Confirmer's Obligations, §5-107(a)
§4.06 UCC: Nominated Person's Obligations
§4.07 UCC: Disclaimers of Obligations, §§5-103(c)and 5-111(e)
§4.08 UCC: Beneficiary's Warranties, §5-110(1)
§4.09UCC: Fraud and Prehonor Relief from Fraud, §5-109
§4.10 UCC: Posthonor Litigation
§4.11 The Intersection of UCC Article 5 and UCC Article 9
Chapter 5. Uniform Customs and Practice for Documentary Credits (UCP 500)
§5.01 UCP: What It Is and How It Applies; Article 1
§5.02 UCP: Fundamentals; Articles 2–6
§5.03 UCP: Notifications; Articles 7–12
§5.04 UCP: Examination of Documents; Article 13—Standards for Examination of Documents
§5.05 UCP: Notice of Dishonor; Article 14—Discrepant Documents and Notice
§5.06 UCP: Examination Notice and Preclusion: UCP 500 vis-à-vis UCC Article 5 and the New ISP
§5.07 UCP: Disclaimers; Articles 15–19
§5.08 UCP: Documents; Articles 20–22
§5.09 UCP: Expiry; Articles 42–45
§5.10 UCP: Transferable Credit; Article 48
§5.11 UCP: Assignment of Proceeds; Article 49
§5.12 eUCP
§5.13 International Standard Banking Practice (ISBP)
§5.14 ICC Rules for Bank-to-Bank Reimbursements
Chapter 5A. UCP 600
§5A.01 UCP 600
§5A.02 UCP 600, General Provisions and Definitions, Articles 1–6
§5A.03 Bank Undertakings and Notifications, Articles 7–16
§5A.04 Original Documents, Article 17
§5A.05 Extension of Expiry Last Date or Last Day for Presentation, Article 29
§5A.06 Tolerance in Credit Amount, Quantity, and Unit Prices, Article 30
§5A.07 Partial Drawings or Shipments, Article 31
§5A.08 Installment Drawings or Shipments, Article 32
§5A.09 Hours of Presentation, Article 33
§5A.10 Disclaimer on Effectiveness of Documents, Article 34
§5A.11 Disclaimer on Transmission and Translation, Article 35
§5A.12 Force Majeure, Article 36
§5A.13 Disclaimer for Acts of an Instructed Party, Article 37
§5A.14 Transferable Credits, Article 38
§5A.15 Assignment of Proceeds, Article 39
Chapter 6. The International Standby Practices 1998 (ISP98)
§6.01 Introduction
§6.02 Rule 1, General Provisions
§6.03 Rule 2, Obligations
§6.04 Rule 3, Presentation
§6.05 Rule 4, Examination
§6.06 Rule 5, Notice, Preclusion, and Disposition of Documents
§6.07 Rule 6, Transfer, Assignment, and Transfer by Operation of Law
§6.08 Rules 7 through 10, Miscellaneous Provisions
§6.09 Standby User Checklist for ISP98
§6.10 Conclusion
Chapter 7. Rules and Governmental Actions
§7.01 Introduction
§7.02 Legal Proceedings and Principles
§7.03 Governmental Actions
§7.04 UNCITRAL, URDG, and Other Rules
§7.05 Arbitration and Letters of Credit
Chapter 8. Fraud and Injunctions
§8.01 Overview
§8.02 Old Colony Trust and Sztejn Cases
§8.03 OldUCC Article5 Ambiguities
§8.04 RevisedUCC Article 5 and Fraud
§8.05 Illegality—Enron and the Mahonia Case
Chapter 9. Insolvency
§9.01 Introduction
§9.02 Terminology
§9.03 Pertinent Provisions of the Bankruptcy Code
§9.04 Letters of Credit and Bankruptcy
§9.05 Letters of Credit: State Insolvency; Status of Foreign Insolvency Proceedings in U.S. Bankruptcy Court
§9.06 Conclusion
Chapter 10. Subrogation, Setoff, and Marshaling
§10.01 What Is Subrogation?
§10.02 Subrogation and Letters of Credit: Examples Before Revised UCC Article 5
§10.03 Subrogation Under UCC Revised Article 5
§10.04 Subrogation and Letters of Credit: Bankruptcy Code
§10.05 Setoff Under the Bankruptcy Code
§10.06 Doctrine of Marshaling
Chapter 11. Basic Mechanics
§11.01 The Players
§11.02 How Letters of Credit Are Issued
§11.03 Applicant; Examples
§11.04 Issuer; Examples
§11.05 Confirming Bank; Examples
§11.06 Advising Bank; Examples
§11.07 Nominated Bank; Examples
§11.08 Beneficiary; Examples
§11.09 Amending a Letter of Credit
§11.10 How to Present for Payment
§11.11 Expiry; Examples
§11.12 Fees
§11.13 Transmission of Data and Money
§11.14 Electronic Issuance and Presentation
§11.15 Internal Controls
Chapter 12. Reimbursement Agreements Annotated
§12.01 Reimbursement Agreements
§12.02 Examination of Documents: Bifurcated Standard
§12.03 Waiving Liability of Issuer, Revised UCC Article §5-103(c)
§12.04 Reimbursement Provisions
§12.05 Choice of Rules—UCP or ISP? Exclusions to ISP Rules
§12.06 Introduction to Annotated Forms
§12.07 Commercial LOC Reimbursement and Security Agreement, with Annotations
§12.08 Commercial LOC Application and Reimbursement Agreement, with Annotations
§12.09 Reimbursement Agreement for Standby LOC Subject to the ISP
§12.10 Unsecured Continuing Standby LOC Reimbursement Agreement: Good Example
Chapter 13. Standby Letters of Credit: Anatomy of Sample Forms
§13.01 Using Chapters 13 and 14 Together
§13.02 Clean LOC, Not an LOC, Standby LOC: Comparisons
§13.03 Standby LOC: Application Form
§13.04 Exclusions from UCP 500 and ISP98
§13.05 Basic Form: Standby LOC
§13.06 Extend Expiry or Pay for Evergreen Contracts
§13.07 Standby LOC Form: Separately Confirmed Credit
§13.08 Standby LOC Form: Amendment
§13.09 Draft or Demand for Payment
§13.10 Standby LOC Presentation Documents
§13.11 Transfer Request for Standby LOC
§13.12 Standby LOC Form: Assignment of Proceeds
§13.13 Standby LOC Form: Release of Credit or Reduction of Amounts Available
§13.14 Standby LOC Form: ForceMajeure Extending Expiry
§13.15 Examples of Standby Credit Forms
Chapter 14. Standby Letters of Credit: Language and Procedures
§14.01 Reconciling Contracts with Credits
§14.02 Contract for Sale to Be Secured by Standby Letter of Credit
§14.03 Issuer's Engagement to Pay
§14.04 Nondocumentary, Extrinsic Conditions
§14.05 Discrepancies: Standby LOC Examples
§14.06 Use of the Word "Purported"
§14.07 Drafts and Payment Demands
§14.08 Statements of Nonperformance and Other Documents
Chapter 15. Illustrative Transactions
§15.01 Illustrative Transactions: In General
§15.02 Accounts Payable
§15.03 Appeal and Supersedeas Bonds
§15.04 Arbitration: Security for Award
§15.05 Bid, Performance, and Advance Payment Security
§15.06 Credit Rating Enhancement of Debt Securities
§15.07 Installment Payments and Sales
§15.08 Lease Rentals; Sale and Leaseback
§15.09 Limited Partnerships, Installment Contributions
§15.10 Loan Collateral
§15.11 Oil Industry
§15.12 Postcontract Addition of Security; Form
§15.13 Promissory Notes
§15.14 Reinsurance
§15.15 Trade Accounts Receivable
§15.16 United States Government Contracts and Transactions
§15.17 State Contracts and Transactions
§15.18 Real Estate Transactions
§15.19 International Crisis Resolution Using a Standby LOC
§15.20 Miscellaneous Uses of Standby Letters of Credit
Chapter 16. Forms, Procedures, and Checklists
§16.01 Using Chapters 16 and 17 Together
§16.02 ICC Standard Documentary Credit Forms
§16.03 Commercial LOC Application Form
§16.04 Basic Form: Commercial LOC
§16.05 Commercial Letters of Credit in Action
§16.06 Discrepant Documents and Waivers
§16.07 Transfers, with Forms
§16.08 Assignment of Proceeds: Form
§16.09 Applicant's Checklist for LOCs
§16.10 Beneficiary'sChecklist for LOCs
§16.11 Administrative Procedures
Chapter 17. Commercial Letters of Credit: Presentation Documents
§17.01 Introduction: Purposes and Scope of Chapter
§17.02 Transport Documents: Definitions
§17.03 UCP Transport Documents
§17.04 UCP: Insurance Documents
§17.05 UCP: Commercial Invoices and Other Documents; Articles 37–38
§17.06 UCP 500: Allowances, Partial and Installment Shipments/Drawings; Articles 39–41
§17.07 UCP 500's Words of Art: Articles 39, 46–47
§17.08 UCC Article 7: Bills of Lading Provisions
§17.09 Presentation Documents: Cases Illustrating Deficiencies
Chapter 18. Paying the Beneficiary: The Fundamental Principles of Letter of Credit Transactions
§18.01 Paying the Beneficiary
§18.02 Strict Compliance
§18.03 Timely Presentation
§18.04 Measuring Compliance
§18.05 The Preclusion Rule
§18.06 The Independence Principle
§18.07 Fraud
§18.08 Warranties and Other Postpayment Rights and Obligations
§18.09 Conclusion
Table of Cases
Index