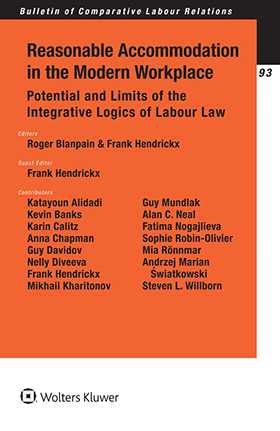 Reasonable Accommodation in the Modern Workplace
Format
Softcover
Softcover
Available: Ships in 3-5 Business Days
Price
This product is available for the standing order program.
Add to Cart
Bulletin of Comparative Labour Relations Volume 93
Reasonable Accommodation in the Modern Workplace. Potential and Limits of the Integrative Logics of Labour Law, is the first study to analyse, on a global scale, how employment discrimination law gives shape to an accommodated workplace in three main areas of interest: age, disability, and religion/belief. Increasingly, the modern workplace faces challenges of diversity and employability, and there is a need to match workforce diversity, or workers' own characteristics and choices, with employers' organizational and business requirements. In this context, the notion of reasonable accommodation inevitably arises. Concepts such as 'adaptability' and 'employability' not only require workers to adapt to new labour market circumstances, but they are also directed towards employers' duties to accommodate work and the workplace to the worker's situation.
This book is a compilation of articles, which were originally presented as papers at the 2015 meeting of the International Association of Labour Law Journals hosted by the Institute for Labour Law of the University of Leuven.
What's in this book:
Issues and topics covered include the following:
the scope of 'reasonable accommodation';
the definition of 'reasonable' in reasonable accommodation;
recognized business requirements that may override the duty to accommodate;
when employers' neutrality policies to avoid accusations of discrimination may constitute indirect discrimination;
use of integration or re-integration strategies to accommodate disabled/incapable workers;
use of 'exit gateways' that enable employers to avoid liability in cases of disability discrimination;
when employers must take into account of workers' family lives; and
when an obligation to reclassify a worker exists.
Sixteen prominent labour and employment law scholars offer in-depth perspectives from labour laws of Belgium, the Netherlands, France, Sweden, Russia, Israel, Canada, the United States, South Africa, and Australia. Each report fully integrates relevant legislation, case law, and legal doctrine and follows the same structure throughout to allow easy comparisons across jurisdictions. Attention is also given to the roles of European Union law and the UN Convention on the Rights of Persons with Disabilities.
The book essentially makes clear that reasonable accommodation cannot be narrowed down to a formal anti-discrimination perspective, but that it requires an integrative logic that can grow in a broader labour law context.
How will this help you:
As a compelling analysis of whether the idea of reasonable accommodation is winning ground in labour law in today's world, this book is of great value. Labour and employment lawyers and judges, as well as corporate counsel and academics, who work with both actual law and powerful legal theory on accommodation, benefit from the actual, up-to-date information and insight provided from globally representative accommodation trends. As a result, the book helps to meet workplace challenges confidently involving accommodations for age, disability, or religion/belief.
| | |
| --- | --- |
| Pages | 232 |
| Last Updated | 05/25/2016 |
| Update Frequency | As Needed |
| Product Line | Kluwer Law International |
| ISBN | 9789041162588 |
| SKU | 10059432-0001 |
Notes on Contributors
Introduction Frank Hendrickx
Chapter 1 Reasonable Accommodation in the United States Steven L. Willborn
Chapter 2 Reasonable Accommodation as Equal Opportunity in Canadian Employment Law Kevin Banks
Chapter 3 Reasonable Accommodation in Australia: Displacing the Normative Worker? Anna Chapman
Chapter 4 Disability and Reintegration in Work: Interplay between EU Non-discrimination Law and Labour Law Frank Hendrickx
Chapter 5 Accommodating 'Reasonable Accommodation': Encouraging Liability Evasion over Employment Integration? Alan C. Neal
Chapter 6 Non-discrimination, Reasonable Accommodation and Swedish Law: With a Special Focus on Disability Mia Rönnmar
Chapter 7 Reasonable Accommodation of Disabled into the Modern Workplace in Poland Andrzej Marian Switkowski
Chapter 8 The 'Integrative Function' of Labour Law in Ebb? Reasonable Accommodation for Religion or Belief and Company 'Neutrality Policies' in Belgium Katayoun Alidadi
Chapter 9 Reasonable Accommodation for Religion, and Other Motives, in French Labour Law: Testing the Possibility of a Legal Transplant Sophie Robin-Olivier
Chapter 10 Reasonable Accommodation of Religion and Culture in South African Workplaces: Taken a Notch Too Far? Karin Calitz
Chapter 11 Reasonable Accommodation in the Modern Workplace: Russian Perspective Nelly Diveeva, Mikhail Kharitonov & Fatima Nogajlieva
Chapter 12 Accommodating All? (or: 'Ask Not What You Can Do for the Labour Market; Ask What the Labour Market Can Do for You') Guy Davidov & Guy Mundlak