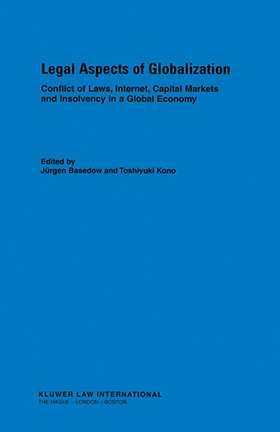 Legal Aspects Of Globalisation, Conflicts Of Laws, Internet,
Format
Hardbound
Hardbound
Available: Ships in 3-5 Business Days
Price
Add to Cart
The phenomenon of increased interconnectedness of the world's societies, generally referred to as `globalisation', is not only changing our everyday life, it also influences the legal framework we are living in. The challenges brought about by this process are especially great in fields of law which are by their very nature international such as Private International Law, the Law of Capital Markets, International Insolvency Law or the Law of the Internet.
Can, for example, established conflict-of-law rules survive in a globalised world? What options exist for regulating capital markets in the era of globalisation? Are national laws on international insolvencies prepared for the increasing number of cross-border insolvency proceedings or does the UNCITRAL Model Law on Cross-Border Insolvency show the way? How can national or international legislators react to the new forms of torts and copyright infringements via the World Wide Web?
These are some of the questions which eminent scholars from Japan and Germany try to answer in this volume. All essays are based on contributions to a symposium which took place in Fukuoka, Japan, on 28-29 March, 1999.
| | |
| --- | --- |
| Publish Date | 01/01/2000 |
| Publish Frequency | As Needed |
| Product Line | Kluwer Law International |
| ISBN | 9789041113320 |
| SKU | 10058222-0001 |