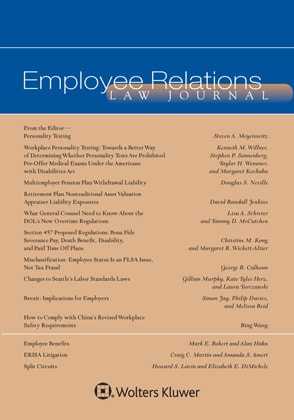 Employee Relations Law Journal
Select Format
Internet price is for a three-month subscription.
Journal
Internet
Journal
Price
This product is available for the automatic renewal program.
Add to Cart
Internet
Price
Includes 3-month access for one license. Need a demo or annual access?
Contact Sales
Add to Cart
Please note, once you complete your purchase, Cheetah registration instructions and login credentials to access your 3-month online subscription will be emailed to you within one business day.
For over 25 years, senior human resource executives, in-house counsel, and attorneys specializing in employment law have turned to Employee Relations Law Journal Online to find out what the law says, how the courts are ruling, and what to do to comply. Practicing professionals provide you with clear and authoritative articles on key issues such as the Americans with Disabilities Act, family medical leave, sexual harassment, terminations and RIF's, age discrimination, alternative dispute resolution, key NLRB decisions, controlling benefits costs, and trends in employment law.
Regular columnists explore the meaning of new laws, regulations, and cases in benefits, safety and health, and labor-management relations.
Note: Online subscriptions are for three-month periods.
| | |
| --- | --- |
| Update Frequency | Quarterly |
| Product Line | Wolters Kluwer Legal & Regulatory U.S. |
| ISBN | 9900036000 |
| SKU | 000000000010041439 |
| | |
| --- | --- |
| Publish Frequency | Quarterly |
| Product Line | Wolters Kluwer Legal & Regulatory U.S. |
| SKU | 000000000010073235 |