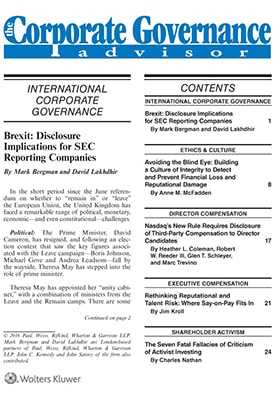 Corporate Governance Advisor
Select Format
Internet price is for a three-month subscription.
Journal
Internet
Journal
Price
This product is available for the automatic renewal program.
Add to Cart
Internet
Price
Includes 3-month access for one license. Need a demo or annual access?
Contact Sales
Add to Cart
Please note, once you complete your purchase, Cheetah registration instructions and login credentials to access your 3-month online subscription will be emailed to you within one business day.
As it has for over fifteen years, each issue of the Corporate Governance Advisor analyzes the hottest issues and developments thoroughly to arm you with the information you need to protect your company or client more effectively.
With the Corporate Governance Advisor, you will always be prepared to deal swiftly and effectively with the critical and fast-changing evolution of governance developments, as wrought by Congress, the SEC and the courts. Every other month, the Corporate Governance Advisor gathers the timeliest information directly from the practicing professionals on the forefront of the industry.
Highlights of important recent issues include:
How are companies responding to the demands of their institutional investors?
What are companies doing to select and evaluate their directors?
What changes in executive compensation practices are necessary now?
These are just some of the many issues being raised in a broad-ranging reexamination that is being conducted throughout this country under the general banner of corporate governance.
Published six times a year, the Corporate Governance Advisor addresses these questions and many others. It provides up-to-date, insightful coverage of corporate governance issues, with thought-provoking analysis and timely news reporting. The Corporate Governance Advisor monitors developments in Congress, the state legislatures, the SEC, the state securities regulators, other regulatory agencies, and securities exchanges with the assistance of RiskMetrics' Institutional Shareholder Services Division.
Note: Online subscriptions are for three-month periods.
| | |
| --- | --- |
| Update Frequency | Bi-monthly |
| Product Line | Wolters Kluwer Legal & Regulatory U.S. |
| ISBN | 10676171 |
| SKU | 000000000010041526 |
| | |
| --- | --- |
| Publish Frequency | Bi-monthly |
| Product Line | Wolters Kluwer Legal & Regulatory U.S. |
| SKU | 000000000010071665 |
Highlights of recent issues include:
Director Independence under NYSE and NASDAQ requirements, by Frederick B. McLane, C. James Levin, and Stephen Chan of O'Melveny & Myers, LLP
Aggressive Restriction of D&O Insurance Policies after Securities Lawsuits, by Ronald L. Berenstain, Douglas W. Greene, and Rolf B. Johnson of Perkins Coie LLP
The New Shareholder Approval Rules for Equity Compensation Plans, by Tom Hanley of Pepper Hamilton LLP
Streamlining Access to the Corporate Ballot, by Lucian Arye Bebchuk, Director of the Program on Corporate Governance, Harvard Law School