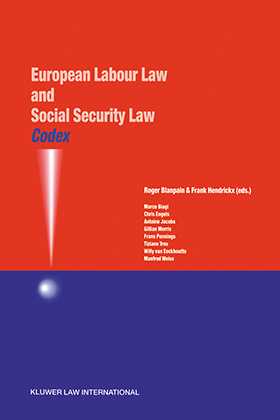 Codex: European Labour Law and Social Security Law
Format
Hardbound
Hardbound
Available: Ships in 3-5 Business Days
Price
Add to Cart
Because labour and social security issues have arisen in many disparate ways since the inception of the European Communities, there has been no consistent classification of European law in this area.
This groundbreaking book at last rectifies that situation, presenting as complete and up-to-date a codification as possible of this body of law, with texts of the most important documents and direct reference to print and online sources of all relevant conventions, regulations, directives, decisions, recommendations, and agreements. The codification encompasses all European Union texts on labour and social security, as well as all pertinent Council of Europe documents.
Among the texts reprinted in full are the following:
all relevant portions of the Treaty on European Union, the Treaty Establishing the European Community, the Treaty of Nice, the Charter of Fundamental Rights of the European Union, and the European Convention on Human Rights;
the Community Charter of the Fundamental Rights of Workers;
all Council directives on equal treatment;
all Council directives and Commission decisions on workers' participation and European Works Councils; and
the European Social Charter.

Codex: European Labour and Social Security Law assembles this scattered collection of texts into an easily-accessible corpus for the first time. It will be of immense value as a source of first instance for practitioners, researchers, and students alike.
| | |
| --- | --- |
| Publish Date | 01/01/2002 |
| Publish Frequency | As Needed |
| Product Line | Kluwer Law International |
| ISBN | 9789041116826 |
| SKU | 10057386-0001 |
Objectives and Principles
Employment
Free Movement of Workers
International Private Law
Individual Employment Contracts
Equal Treatment
The Protection of Young People, Motherhood and Parental Leave
Working Time, Sunday Rest, Nightwork
Health and Safety
Restructuring of Enterprises
Workers' Participation and Social Dialogue