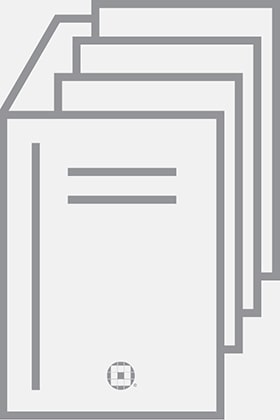 Bank Compliance Guide
Select Format
Internet price is for a three-month subscription.
Looseleaf
Internet
Looseleaf
Price
This product is available for the automatic renewal program.
Add to Cart
Internet
Price
Includes 3-month access for one license. Need a demo or annual access?
Contact Sales
Add to Cart
Please note, once you complete your purchase, Cheetah registration instructions and login credentials to access your 3-month online subscription will be emailed to you within one business day.
Be sure you are ready for examination time. The Bank Compliance Guide is a concise yet comprehensive three-volume resource for today's banking compliance professional. This essential tool addresses issues relating to consumer protection in savings, lending and operations activities of financial institutions (including advertising and the sale of uninsured products). This product provides the guidance you need to create and maintain an effective compliance program.
Subscribe today to:
Search for information logically with topically arranged explanations followed by the full text of the law
Understand the complexities of compliance issues with expert plain-English explanations of laws and regulations
Know ahead of time what regulators will be looking for at examination time
Utilize compliance tools such as sample policies, procedures and checklists to meet the demands of a compliance audit
Receive monthly Report Letters that allow you to quickly review the most recent changes in summary form and direct you to more detailed explanations or the full text of the document
Get the information you are looking for quickly and easily with Topical Index or numeric Finding Tables
Stay up-to-date on items of current interest such as regulatory releases and issuances, rule interpretations, or agency guidelines, which are reproduced in the Current Developments section and back-referenced to appropriate past materials
Note: Online subscriptions are for three-month periods.
| | |
| --- | --- |
| Update Frequency | Monthly |
| Product Line | Wolters Kluwer Legal & Regulatory U.S. |
| SKU | 000000000010021823 |
| | |
| --- | --- |
| Publish Frequency | Monthly |
| Product Line | Wolters Kluwer Legal & Regulatory U.S. |
| SKU | 000000000010071753 |
Volume 1
Compliance Program
Advertising
Sale of Uninsured Products
Expedited Fund Availability
Truth in Savings
Interest on Deposits
Electronic Fund Transfers
Reserve Requirements
Real Estate Settlement Procedures
Home Mortgage Disclosure
Community Reinvestment
Insider Credit
Unfair or Deceptive Acts
Volume 2
Truth in Lending
Restitution
Fair Credit Reporting
Equal Credit Opportunity
Fair Debt Collection Practices
Fair Housing
Flood Disaster Protection
Bank Secrecy
Volume Current
Bank Protection
Privacy
Current Developments
Last Report Letter