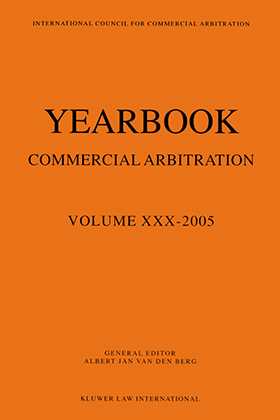 Yearbook Commercial Arbitration Volume XXX 2005
Format
Softcover
Softcover
Available: Ships in 3-5 Business Days
Price
This product is available for the standing order program.
Add to Cart
This year the
Yearbook Commercial Arbitration
has reached the milestone of thirty years of documenting the law and practice of international commercial arbitration. The Yearbook provides up-to-date and informative material to arbitration scholars and practitioners in the form of arbitral awards and court decisions, as well as newly adopted or amended arbitration rules.
An indispensable feature of the Yearbook is the reporting on the 1958 New York Convention which in this volume includes the greatest number of cases yet 79 court decisions from 12 countries throughout the world. These cases are indexed and linked to the General Editor's earlier-published Commentaries on the New York Convention, facilitating research on any aspect of the Convention. The Yearbook also contains recent court decisions applying the 1961 European Convention, the 1975 Inter-American Arbitration Convention and the UNCITRAL Model Law on International Commercial Arbitration as well as leading cases on topical issues from a variety of jurisdictions. Austrian, French, German, Italian, Russian, Spanish and Swedish decisions are translated into English, giving the reader access to material which might otherwise be inaccessible.
Arbitral awards made under the auspices of the Iran-US Claims Tribunal, the International Court of Arbitration of the International Chamber of Commerce, the German Maritime Arbitration Association and the Hamburg Friendly Arbitration deal with procedural and substantive issues of general interest to the business and legal communities. New and amended rules adopted by the China International Economic and Trade Arbitration Commission (CIETAC), the China Maritime Arbitration Commission (CMAC) and the International Chamber of Commerce (ICC) are reproduced and information is provided on arbitration legislation recently enacted in Chile, Denmark, Norway, Philippines and Poland. A Bibliography and List of Journals keep the reader up-to-date on relevant literature.
The worldwide scope and variety of the materials of the Yearbook assure the reader of a comprehensive annual overview of international commercial arbitration.
| | |
| --- | --- |
| Pages | 1312 |
| Last Updated | 01/13/2006 |
| Update Frequency | Annually |
| Product Line | Kluwer Law International |
| ISBN | 9789041124036 |
| SKU | 10059633-0021 |