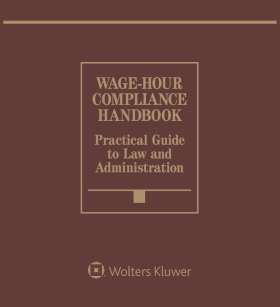 Wage Hour Compliance Handbook, 2021 Edition
Select Format
Internet price is for a three-month subscription.
Looseleaf
Internet
Looseleaf
Available: Ships in 3-5 Business Days
Price
This product is available for the standing order program.
Add to Cart
Internet
Price
Includes 3-month access for one license. Need a demo or annual access?
Contact Sales
Add to Cart
Please note, once you complete your purchase, Cheetah registration instructions and login credentials to access your 3-month online subscription will be emailed to you within one business day.
This all-inclusive, practical desk reference provides human resources (HR) and payroll practitioners with plain-English explanations of federal and state wage-hour laws. This timesaving handbook, updated regularly, contains concise and easy-to-understand explanations of the federal Fair Labor Standards Act's (FLSA's) minimum wage and overtime requirements. In addition, you will find important guidance on how federal and state minimum wage and overtime laws—the laws that apply in your state and in any state in which you have employees—interact and apply to your business operations. Wage-Hour Compliance Handbook also includes summaries of actual court cases that illustrate the law's "real-world" application. Other important features include details on key pay-related mandates (such as permissible deductions, your deadline for issuing employees' pay, state child labor restrictions, and pay requirements for jury duty and military leave); a directory of federal and state wage-hour regulatory agencies; special standalone chapters on equal pay and family leave; and an array of practical checklists and forms that give you a user-friendly template for complying with the law.
The 2021 Edition of Wage-Hour Compliance Handbook contains the latest federal and state wage and hour information needed by HR and payroll professionals to comply with the various wage-hour laws and regulations.
Highlights of the 2021 Edition include:
A key Supreme Court decision on the Deferred Action for Childhood Arrivals (DACA) program
A new Supreme Court case on Form I-9 information
Penalty amounts for FLSA slip-ups
Rules for using a basic rate to compute overtime
Update on new regulations for joint employers under the FLSA
Guidance on third-party payments and the minimum wage
How bonus pay factors into the regular rate
Child labor rules for "virtual school"
New rulings on outside sales employees
A new case on day rates for exempt employees
Key requirements for fluctuating workweek overtime
Information on EEO-1 pay data reporting
The Supreme Court's decision on employment discrimination
Fringe benefit requirements for federal contractors
State minimum wage rates for 2021
Developments in state wage and hour law
Wage-hour forms, publications, and posters for 2021
Note: Online subscriptions are for three-month periods.
Previous Edition: Wage Hour Compliance Handbook, 2020 Edition, ISBN 9781543811278
| | |
| --- | --- |
| Pages | 950 |
| Last Updated | 12/11/2020 |
| Update Frequency | Annually |
| Product Line | Wolters Kluwer Legal & Regulatory U.S. |
| ISBN | 9781543824575 |
| SKU | 10083616-7777 |
| | |
| --- | --- |
| Publish Frequency | Annually |
| Product Line | Wolters Kluwer Legal & Regulatory U.S. |
| SKU | 000000000010073242 |
1. INTRODUCTION TO WAGE-HOUR COMPLIANCE

How This Handbook Can Help

2. EMPLOYEE ELIGIBILITY TO EARN WAGES

Overview of Federal Work Eligibility Requirements
Eligible Workers
Employment Eligibility Verification
Documentation
Lists of Acceptable Documents
Unlawful Discrimination
IMAGE Program
The E-Verify Program
Employment of Unauthorized Aliens
No-Match Letters
State Legislation Related to the Employment of Undocumented Workers

3. THE FAIR LABOR STANDARDS ACT (FLSA)

Overview
How to Determine Who Is Covered by the FLSA
Minimum Wage Standards Under the FLSA
Determining the Applicable Wage Rate of an Employee
Form of Wages and Permissible Deductions
Uniforms
Other Items
Trouble Spots
White-Collar Employees
Tip Credits Against the Minimum Wage
Overtime Compensation
What Is a Workweek?
The Regular Rate of Pay
Examples of Regular Rate Computations:
Overtime Based on Agreement or Understanding
Time Off in Lieu of Cash Overtime Compensation
Joint Employers
Compensable Hours Worked
Waiting Time or "On Call" Time
Rest Periods and Other Break Time
Meal Time
Sleeping Time
Training Time
Travel Time
Preliminary and "Postliminary" Activities
Unauthorized Work
Child Labor Provisions of the FLSA
Coverage of the Youth Employment Rules
Minors Under 16
Minors 16 and 17 Years Old
Exceptions
School-to-Work Programs
Recordkeeping
Basic Records to Keep
White-Collar Rules
Record Retention for Three Years
Record Retention for Two Years
Notices to Post
Youth and Subminimum Wages
Learners
Apprentices
Messengers
Full-Time Students
Student-Learners
Workers with Disabilities
State Summary Charts
State Child Labor Guidelines
New-Hire Reporting Requirements

4. EXEMPTIONS FROM THE FLSA'S MINIMUM WAGE AND OVERTIME COMPENSATION PROVISIONS

Introduction
White-Collar Exemptions
Salary Level Test
Salary Basis Test
Model Salary Basis Policy
Salary Basis Requirement
Circumstances in Which the Employer May Make Deductions from Pay
Company Policy
What to Do If an Improper Deduction Occurs
Duties Test - Executives
Administrative Employees
Duties Test - Professionals
Computer Employees
Outside Sales Employee
Combination Exemption
Specific Industry Exemptions Under FLSA
Exempt from Both Minimum Wage and Overtime Compensation
Requirements
Exempt from Overtime Compensation Requirements Only
Partial Exemption from Minimum-Wage Requirements Only
Planning for and Conducting a Wage-Hour Audit
Compliance Checklists
Time Records Checklist
Child Labor Checklist
Payroll Records Checklist
General Compliance Considerations
Class Action Lawsuits Loom Large
How Real Is the Threat?
Risk Grows as Layoffs Increase
Where the Risk Is Greatest
Audit and Fix
Other Preventive Measures
The Bottom Line

5. THE EQUAL PAY ACT AND OTHER NONDISCRIMINATION LAWS

Introduction
Equal Pay Act
Key Terms
Consistency is Key
Important Issues
Title VII of the Civil Rights Act of 1964
Pay Discrimination Claims
Protecting Yourself Against Wage-Based Discrimination
Compliance Strategies Under the EPA

6. THE FAMILY AND MEDICAL LEAVE ACT

Overview
Purpose of the FMLA
Employee Eligibility
Basic Family Leave
Military Family Leave
12-Month Employment Requirement
Counting Employees at Worksite
Counting Work Hours
Which Employees Are Counted?
Computing the 12-Month Period
Date Leave Begins Determines Eligibility
Different Types of Leave
FMLA Leave for a New Child
FMLA to Care for a Family Member
Military Family Qualifying Exigency Leave
Military Family Leave to Care for a Covered Servicemember
Intermittent/Reduced Schedule Leave
Intermittent Leave and the FLSA
State and Federal Laws and Company Policy
FMLA Does Not Supersede More Generous Leave Rights
The FMLA and the ADA
The FMLA and Workers' Compensation
The FMLA and the PDA
The FMLA and COBRA
Company Policy
Posting Requirements
Other Notices to Employees
Recordkeeping Requirements
Granting and Designation of Leave
Employer Responsibilities Under the FMLA
Violations
Employee Responsibilities Under the FMLA
Notice
Certification of FMLA Eligibility
Required Certifications
Certification of a Serious Health Condition
Certification of Family Military "Qualifying Exigency" Leave 6-
Certification of Family Military Caregiver Leave
Making Contact with the Employee at Home
Return to Work and Fitness for Duty
Failure to Provide Certification
Employee Complaints Under the FMLA
Paid or Unpaid Leave
Employers May Require Use of Accrued Paid Time
Pay and Benefits During Leave
Deducting Hourly Amounts
Group Health Plan Benefits
Paying Group Health Benefit Premiums
Consequences of Failure to Make Payments
Cafeteria Plans
Recovering Costs
COBRA Health Care Continuation Coverage
Other Employee Benefits
Sick Leave Donations
FMLA and No-Fault Absence Policies
FMLA and Bonus Programs
Planned Closings
Employment Protection
Restoring Employee to Previous Position
Employee Protection from Retaliation
Benefits
Light Duty
The Right Not to Reinstate
Corporations and Joint Employment
Counting Employees
Joint Employment
Definitions
Key Terms and Phrases
Additional Information
Checklists
Compliance Strategy Checklist
Employee Expectations and Obligations Checklist
Employer Notices Checklist
Employer Recordkeeping Checklist
Employer Pay and Benefits Checklist
Military Leave Reemployment Rights
USERRA Basics
Covered Employers
Covered Employees
Notice Requirements
Employee Status During Leave
Use of Accrued Leave During Military Service
Benefits During Military Leave
Reemployment Rights
Benefits Following Leave
Service Time Counts Toward FMLA Eligibility
Posting Requirement
More Resources for USERRA Information

7. THE DAVIS-BACON AND McNAMARA-O'HARA SERVICE CONTRACT ACTS

Introduction
Davis-Bacon Act
Who and What Are Covered
Who and What Are Not Covered
Application and Enforcement
McNamara-O'Hara Service Contract Act
Who and What Are Covered
Who and What Are Not Covered
Application and Enforcement
Compliance Strategies

8. THE WALSH-HEALEY PUBLIC CONTRACTS ACT

Introduction
Basic Rules
Compliance Checklist
Notice of Employee Rights Under Federal Labor Laws

9. STATE WAGE AND HOUR LAWS

Minimum Wage
Overtime
Child Labor
Payday Law
Garnishment and Other Court Orders
Meal and Rest Periods
Jury Duty
Voting Leave
Prevailing Wages
Equal Pay Act
Family and Medical Leave
Military Leave
Disaster and Emergency Services Leave
State Posting Requirements

10. FORMS, PUBLICATIONS, AND POSTERS

Workplace Posters
Wage-Hour Forms
Government Contractor Forms
Family and Medical Leave Act Forms
Work Eligibility Forms

11. FEDERAL AND STATE DIRECTORIES

US Department of Labor (www.dol.gov)
Key Personnel
Wage and Hour Division
Wage and Hour Regional Administrators
District Offices
US Equal Employment Opportunity Commission (www.eeoc.gov)
Headquarters
EEOC Offices
State Wage-Hour Agencies

12. WAGE-HOUR WEBSITES