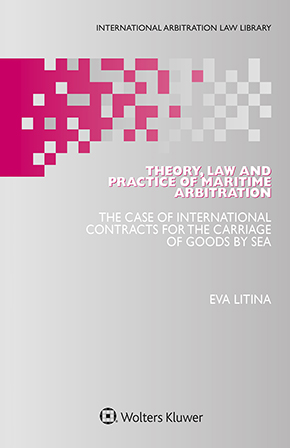 Theory, Law and Practice of Maritime Arbitration
Format
Hardbound
Hardbound
Available: Ships in 3-5 Business Days
Price
This product is available for the standing order program.
Add to Cart
International Arbitration Law Library Series Volume 60
Theory, Law and Practice of Maritime Arbitration is a book that delves deep into the phenomenon of maritime arbitration with a specific focus on contracts for the carriage of goods by sea. The author furnishes the first comprehensive and comparative analysis of arbitral practice in the three jurisdictions where the most frequently selected maritime arbitral seats are located: London, New York, and Singapore. It is estimated that over 80% of global trade by volume is carried by sea, making maritime transport the backbone of the global economy. Most disputes in the shipping industry are settled by distinctive, private, mystery-enshrouded arbitral proceedings that are best understood by a close examination of the standard form contracts that are used in practice and of the case law arising therefrom. An in-depth analysis of the applicable rules and relevant case law in each jurisdiction provides the basis from which a comparative assessment of maritime arbitral seats is achieved.
What's in this book:
The book addresses the following key aspects of maritime arbitration:
maritime arbitration's definition, origins, theoretical underpinnings, socioeconomic context, and significance;
the maritime-specific reasons for the wide use of ad hoc versus institutional arbitration;
the international instruments governing arbitration in contracts for the carriage of goods by sea;
the shipping industry's pursuit of self-regulation via standard form contracts;
the arbitration agreement contained in standard form charterparties and bills of lading;
maritime arbitration's unique approach to judicial review, confidentiality, and arbitrator impartiality;
the specific dispute resolution objectives that compel a comparative assessment of maritime arbitral seats; and
the future of maritime arbitration in light of international political, financial, and technological developments.
Apart from the three main maritime arbitral seats, the analysis touches on maritime arbitration in other relevant jurisdictions, such as Hong Kong, Greece, Japan, and Korea, thus affording a comparison of the process in common and civil law jurisdictions. The book concludes by considering the potential impact of the current international political landscape and suggesting future perspectives and research in international maritime arbitration.
How this will help you:
An essential addition to scholarship in this field of law, the book's thorough assessment of the merits of the competing maritime arbitral seats—and its specific focus on maritime disputes—will prove of significant importance to arbitrators, law firms, in-house counsel of shipping companies, international organizations, and arbitration institutions and associations. Practitioners will discover all tools necessary to examine any case before the main maritime arbitral seats with full awareness of each applicable legal regime and its distinguishing features.
| | |
| --- | --- |
| Last Updated | 12/11/2020 |
| Product Line | Kluwer Law International |
| ISBN | 9789403530352 |
| SKU | 10087294-0001 |
About the Author
Foreword
Preface
List of Abbreviations
Acknowledgments
Introduction
CHAPTER 1
Theoretical Background
CHAPTER 2
The Current Legal Regime
CHAPTER 3
Distinguishing Features of Maritime Arbitration Practice
CHAPTER 4
Conclusions: Reliability, Efficiency, and Flexibility in Maritime Arbitration
Appendices
APPENDIX 1
List of Charterparties
APPENDIX 2
List of Bills of Lading
Bibliography
Table of Cases
Table of Legislation
Index
See what our clients are saying:
...It starts with a research question. Finds the correct path and proceeds assiduously until it achieves the promised results. Almost all publicly available resources have been perused over without being descriptive. The arguments are well-thought and worked over. It provides us with a clear framework for maritime arbitration, the knowledge of which is necessary for further exploration into the area. As a monograph concentrated on contracts for carriage of goods by sea, it paves the way for further in-depth legal research into specific aspects of maritime law (including, on ship-sale, shipbuilding and repair and offshore builders, bunker disputes, salvage, collision issues, drilling rigs, marine insurance, etc.) through the prism of maritime arbitration. The book tries to deepen our understanding of maritime arbitration and it successfully managed to do so.

Mojtaba Asgharian / Transnational Dispute Management / January 2021, Vol. 18, Issue 1