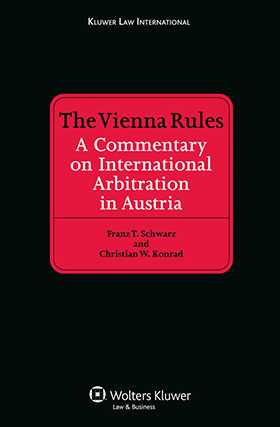 The Vienna Rules: A Commentary on International Arbitration in Austria
Format
Hardbound
Hardbound
Available: Ships in 3-5 Business Days
Price
Add to Cart
This authoritative commentary examines the new Vienna Rules and the Austrian Arbitration Act that both came into effect on 1 July 2006 as the result of a major reform. Following a call for modernization, this reform has further enhanced the attraction of Austria as an arbitral seat and has reinforced the importance of the Centre for parties seeking to resolve international commercial disputes. While the Rules themselves have become widely known among lawyers and arbitrators, there has been no significant commentary or guidance available until the advent of this book.
Set out as an article-by-article commentary, the authors' expert guidance proceeds in conformance with international practice, reconciling approaches adopted in both common law and civil law traditions. Within this enormously valuable international perspective, the book provides in depth coverage of all details of arbitral procedure under the Vienna Rules and Austrian arbitration law, including:
validity of arbitration agreement and jurisdictional disputes;
appointment, rights and duties of arbitrators;
liability of arbitrators;
multiparty proceedings;
challenge of arbitrators and experts;
treatment of counter-claims;
interim measures of protection;
settlements and awards; and
costs and fees in arbitration.
The book provides the reader with a framework, and specific instruments, to negotiate arbitrations effectively and ensure that the process remains predictable, expeditious and fair. Drawing on extensive research into the practice of the International Arbitral Centre in Vienna, as well as on case law, academic writing, and the Act's legislative history, this book will be of great value to corporate counsel, international lawyers, and arbitrators, as well as to students of dispute resolution.
| | |
| --- | --- |
| Resources | DM Piece |
| Publish Date | 08/28/2009 |
| Publish Frequency | As Needed |
| Product Line | Kluwer Law International |
| ISBN | 9789041123442 |
| SKU | 10058716-0001 |
Preface. Article-by-article commentary on the 2006 Rules of the Vienna International Arbitral Centre and Austrian arbitration law