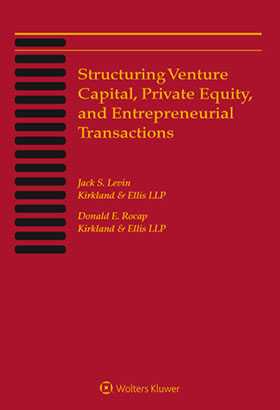 Structuring Venture Capital, Private Equity and Entrepreneurial Transactions, 2017 Edition: Print and CD-ROM Combo
Softcover
This product is available for the standing order program.
Buy Now
This combination offer includes both the print and CD-ROM versions of Jack S. Levin's and Donald E. Rocap's Structuring Venture Capital, Private Equity and Entrepreneurial Transactions, 2017 Edition. This resource will help you minimize your clients' tax liability and avoid legal pitfalls, as well as maximize returns on successful transactions and be prepared for all of the potential benefits.
Structuring Venture Capital, 2017 Edition provides one-step-at-a-time, start-to-finish structural guidance for the following common business transactions:
Venture capital financing
New business start-ups
Brains-and-money deals
Growth-equity investments
Leveraged and management buyouts
Industry consolidations
Troubled company workouts and reorganizations
Going public
Selling a business
Forming a private equity fund.
Guided by Levin's dynamic, transaction-by-transaction approach, you'll make the tax, legal, and economic structuring consequences of every deal benefit your client every time. In this extraordinary hands-on resource by the most sought-after authorities in the field, you'll see exactly how to:
Distribute the tax burden in your client's favor
Maximize returns on successful transactions
Control future rights to exit a profitable investment
And turn every transaction into a winning venture!
| | |
| --- | --- |
| Resources | Highlight |
| Last Updated | 07/21/2017 |
| Product Line | Wolters Kluwer Legal & Regulatory U.S. |
| ISBN | 9781454884934 |
| SKU | 10045585-7777 |
Introduction
Structuring Start-Up Transaction
Structuring Newco as Flow-Through Entity
Structuring Growth-Equity Investment in Existing Company
Structuring Buyout
Debt and Equity Securities and Executive Deferred Compensation
Structuring Consolidation of Fragmented Industry
Structuring Turn-Around Investment in Overleveraged or Troubled Company
Exit Strategies: Structuring IPO or Sale of PE/VC-Financed Portfolio Company
Structuring Formation of Private Equity Fund
Appendix: Statutes, Regulations, and Other Precedents
Summary of Contents for Precedents
¶2000 Internal Revenue Code of 1986
¶2100 Treasury Regulations
¶2200 Revenue Procedures and Revenue Rulings
¶2300 Federal Securities Laws, Rules, and Regulations
¶2400 Bankruptcy Code
¶2500 State Fraudulent Conveyance Statutes
¶2600 Delaware Corporate, Partnership, and LLC Statutes
¶2700 Cases
¶2800 Other Materials