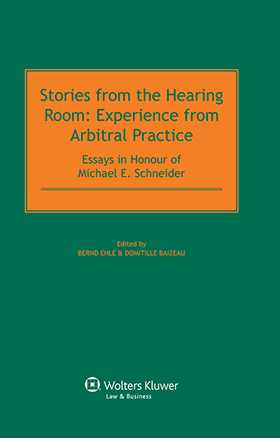 Stories from the Hearing Room: Experience from Arbitral Practice. Essays in Honour of Michael E. Schneider
Format
Hardbound
Hardbound
Available: Ships in 3-5 Business Days
Price
Add to Cart
This liber amicorum celebrates the 75th birthday of Michael E. Schneider, a leading ― indeed, iconic ― figure in the field of international dispute resolution and co-founder of the world-renowned law firm LALIVE. Michael's creativity and dedication as counsel, as arbitrator, as academic, and as leader in numerous arbitral institutions and associations have inspired, and continue to inspire, arbitration practitioners from all around the world. The book is essentially a collection of 'war stories' written by practitioners who have worked with him or witnessed him in action at close range. Their aim is to share experiences and solutions found to challenging situations in practice, in particular in the context of arbitration hearings.
The essays highlight Michael's boundless energy, creative thinking, and questioning of conventional ideas as we see him (for example) defusing unusual incidents before they grow unmanageable, dealing with counsel X's delay tactics, and masterfully restoring reasonable balance and symmetry in the hearing room. There are valuable lessons here too about cross-examination methods and time management in arbitrating cases involving construction, industrial engineering and infrastructure projects, investment and other disputes involving states, natural resources (particularly oil and gas), environment, telecommunications, joint ventures, and more. Michael's expertise in managing large and complex disputes and leading teams of specialists, including lawyers, from various fields and cultural backgrounds, shines forth as well.
In addition to the 30 contributed chapters, the volume also includes 16 witty and thought provoking messages prepared for the ASA Bulletin during Michael's tenure as president of the Swiss Arbitration Association. This is a book not to be missed by members of the arbitration community worldwide. Both insightful and entertaining, it accurately conveys the truly exemplary practice of a master craftsman in the field of international arbitration.
| | |
| --- | --- |
| Pages | 324 |
| Publish Date | 12/15/2014 |
| Publish Frequency | As Needed |
| Product Line | Kluwer Law International |
| ISBN | 9789041154132 |
| SKU | 10058556-0001 |
Preface.
Chapter 1 Recollections of an Englishman Geoffrey M Beresford Hartwell.
Chapter 2 The In-House Counsel Who Went Astray: Ex-Parte Communications with Party-Appointed Arbitrators Klaus Peter Berger.
Chapter 3 Dramatic Sideshows at the Hearing George A. Bermann.
Chapter 4 The Boxed Eagle and Catches at Hearings and Deliberations Karl-Heinz Böckstiegel.
Chapter 5 Symbols, Customs and Other Curiosities in the Hearing Room Dr. Christian Borris, LL.M.
Chapter 6 Between a Hammer and an Anvil Nael G. Bunni.
Chapter 7 The Aha! Phenomenon: When "Non-Verbal Communication" Gets You to Closer to the Truth Elliott Geisinger.
Chapter 8 Ex Officio Powers to Investigate: When Do Arbitrators Cross the Line? Teresa Giovannini.
Chapter 9 Deadlines, Burglars and the Canicule: Arbitration in Two Shifts Veijo Heiskanen.
Chapter 10 War Stories and the Morals to be Learnt Michael Hwang SC.
Chapter 11 Improving Arbitral Procedure: Perspectives from the Coalface Doug Jones.
Chapter 12 Defusing Unusual Incidents Before They Grow Unmanageable Pierre A. Karrer.
Chapter 13 An Introduction to Middle East Disputes via Geneva Richard Kreindler.
Chapter 14 The Importance of Instructions Maurice Mendelson QC.
Chapter 15 Arrogance and Machiavellism: Two Deadly Dangers in the Hearing Room Taoufik Ouanes.
Chapter 16 Too Close for Comfort Jan Ramberg.
Chapter 17 Two out of Three: The Effect of Truncated Tribunals Sir Vivian Ramsey.
Chapter 18 La clause de parapluie Klaus Sachs.
Chapter 19 Michael E. Schneider's Time Management Lessons Matthias Scherer.
Chapter 20 Counsel X's Delay Tactics: What an Arbitral Tribunal Can (and Cannot) Do Fabian von Schlabrendorff.
Chapter 21 A Sealed Letter Crosses the Channel Eric Schwartz.
Chapter 22 Michael Schneider on Cross-Examination: A Respectful, Even Admiring, Albeit Uneasy Reaction of U.S. Lawyer Laurence Shore.
Chapter 23 Au « club » des arbitres Pierre Tercier.
Chapter 24 Arabian Nights (and Days) in Geneva Peter Turner.
Chapter 25 Uneven Representation and Imbalanced Resources Between Parties to an International Arbitration or in Relation to the Arbitral Tribunal: Restoring Reasonable Balance and Symmetry in the Hearing Room (or Not) Carita Wallgren-Lindholm.
Chapter 26 Transaction Counsel as Arbitration Counsel and as Witness? Gerhard Wegen.
Chapter 27 Schiedsentscheids-Entwürfe: Sollen Schiedsgerichte ihren Entscheid den Parteien zunächst als Entwurf vorlegen? Werner Wenger.
Chapter 28 Evidence Gone Astray Markus Wirth and Melissa Magliana.
Chapter 29 Michael E. Schneider: An Exceptional Person Tore Wiwen-Nilsson.
Chapter 30 Proactivité et diversité dans la conduite de l'audience : « Mega hot tubbing » ou quand le tribunal arbitral mène la danse Roland Ziadé.
ASA President's Messages (2010-2013) Michael E. Schneider.