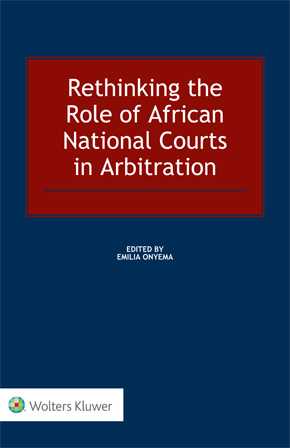 Rethinking the Role of African National Courts in Arbitration
Format
Hardbound
Hardbound
Available: Ships in 3-5 Business Days
Price
Add to Cart
Rethinking the Role of African National Courts in Arbitration provides a remarkably thorough overview of the relation of courts and arbitration in the African continent. This book documents the Second SOAS Arbitration in Africa Conference held in Lagos in June 2016. With the increase in commercial transactions, both within the fifty-four independent African States and at international level, it has become apparent that most of the legal framework for arbitration across the continent requires reform. Accordingly, in recent years, as this first in-depth treatment of arbitration in Africa shows, jurisprudence from national courts of various African jurisdictions demonstrates that the courts are becoming more pro-arbitration and judges increasingly understand that their role is to support or complement the arbitral process.
What's in this book:
Topics discussed include:
disposition of courts in Africa towards arbitration, whether supportive or interventionist;
involvement of courts in the arbitral process before, during, and after an award has been rendered;
publication and access to arbitration-related decisions from African courts;
enforcement of annulled awards in the African States under the New York Convention;
prospects for the establishment of a pan-African investment court; and
how foreign courts (particularly in the United States, France, and Switzerland) perceive African arbitration.
This book discusses the wide range of developmental stages among Africa's court and legal systems in two parts: Part I explores generic issues relevant to courts and arbitration; and Part II provides detailed descriptions, including court decisions, of the situation in eight specific jurisdictions – Egypt, South Africa, Sudan, Mauritius, Nigeria, Ghana, Rwanda, and Kenya. The authors of these latter chapters are legal practitioners and academics from each of these countries.
How this will help you:
Throughout this book, policy recommendations for improving access to court decisions and laws in the African States are brought to the fore. In its expertise-based advocacy for a mutually harmonious and supportive coexistence for arbitration and litigation in the context of the complexities and peculiarities of African States – and its confrontation of the predominantly negative perception that often leads to 'arbitration flight' from the continent – this book helps companies, investors, and their advisors to base their decisions on facts and not perceptions. It is of great value to practising lawyers in arbitration as counsel or arbitrators, companies doing transnational business, global law firms, government officials, and academics in the field.
| | |
| --- | --- |
| Pages | 448 |
| Publish Date | 06/26/2018 |
| Publish Frequency | As Needed |
| Product Line | Kluwer Law International |
| ISBN | 9789041190420 |
| SKU | 10058497-0001 |
Editor & Contributors
Foreword
Preface
Summary
PART I
National Courts and Arbitration
CHAPTER 1
The Role of African Courts and Judges in Arbitration
Emilia Onyema
CHAPTER 2
Overview of the Disposition of Courts Towards Arbitration in Africa
Edward Torgbor
CHAPTER 3
Publication and Access to Arbitration Related Decisions from African Courts
Leyou Tameru
CHAPTER 4
Judicial Attitudes Towards the Enforcement of Annulled Awards
Jean Alain Penda Matipe & Prince Ndudi Councillor Olokotor
CHAPTER 5
Towards a New International Economic Order: Proposal for a Pan-African Investment Court
Chrispas Nyombi
PART II
National Jurisdictions
CHAPTER 6
Attitude of Egyptian Courts Towards Arbitration
Nagla Nassar
CHAPTER 7
Attitude of South African Courts Towards Arbitration
David Butler
CHAPTER 8
Attitude of Sudanese Courts Towards Arbitration
Ahmed Bannaga
CHAPTER 9
Attitude of Mauritian Courts Towards Arbitration
Duncan Bagshaw & Iqbal Rajahbalee
CHAPTER 10
Attitude of Nigerian Courts Towards Arbitration
Paul Obo Idornigie & Isaiah Bozimo
CHAPTER 11
Attitude of Ghanaian Courts Towards Arbitration
Kizito Beyuo
CHAPTER 12
Attitude of Rwandan Courts Towards Arbitration
Fidèle Masengo
CHAPTER 13
Attitude of Kenyan Courts Towards Arbitration
Kamau Karori & Ken Melly
Bibliography
Table of Cases
Table of Legislation
Index