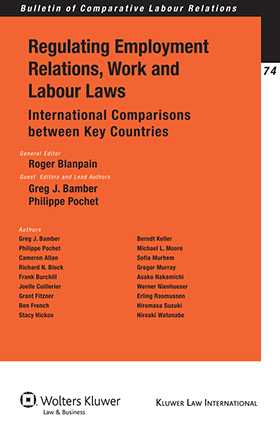 Regulating Employment Relations, Work and Labour Laws. International Comparisons between Key Countries
Format
Softcover
Softcover
Available: Ships in 3-5 Business Days
Price
This product is available for the standing order program.
Add to Cart
The complexity of employment arrangements in various countries tends to make it difficult to understand them. Nevertheless, it is important to 'take stock' periodically, particularly from an internationally comparative perspective. This remarkable book is a giant step in that direction. It is especially valuable in the context of increasing globalisation.
For each of nine key jurisdictions – the European Union, Germany, Sweden, United Kingdom, United States of America, Canada, New Zealand, Australia and Japan – experts present detailed information and analysis on key issues, shedding valuable light on trends in such specific areas of employment relations as the following:
• atypical work and flexible work arrangements;
• dispute settlement procedures such as negotiation, conciliation, mediation, arbitration and other forms of governmental or judicial intervention;
• job security, anti-discrimination and gender equality;
• recognition of unions and employers' associations and forms of employee representation;
• how collective bargaining is regulated, whom the collective agreements cover and what they contain;
• parental leave and childcare policy;
• the capacity of individual agreements to override or not override collective agreements;
• minimum wage levels;
• overtime and shift work; and
• paid leave entitlements.
As a general framework, Part 1 offers an insightful summary of the underpinnings of current analysis of globalization, including discussion of the varieties of capitalism thesis, the divergence/convergence debate (with its models of bipolarization, clustering and hybridization), and elements of historical and political-economic path dependency in various cultures.
The information gathered here furthers understanding of the increasing 'disconnect' between the prevailing institutional framework for employment relations and the sweeping changes that are taking place in the world of work. With this book's analysis, practitioners and policymakers will be able to overcome their dated assumptions and more effectively accommodate each others' interests in the face of the complex mix of continuity and change that they are confronting.
The team of authors are experts in these countries. They are active in policy or legal analysis, business and/or scholarship.
| | |
| --- | --- |
| Last Updated | 04/01/2010 |
| Update Frequency | As Needed |
| Product Line | Kluwer Law International |
| ISBN | 9789041131997 |
| SKU | 10059439-0001 |
Notes on Guest Editors and Lead Authors
Notes on Other Authors
Acknowledgements
List of Abbreviations
Preface
Part I Frameworks for Internationally Comparative Analysis
Debates about Convergence and Divergence
Varieties of Capitalism
Future Challenges
Part II An International Review of Key Jurisdictions
European Union
Germany
Sweden
United Kingdom
United States of America
Canada
New Zealand
Australia
Japan
Part III An International Review of Key Issues
Chapter 1 Work and Family
Chapter 2 Individual Agreements
Chapter 3 Non-standard Employment
Chapter 4 Minimum Wage Levels
Chapter 5 Working Time
Chapter 6 Paid Leave Entitlements
Chapter 7 Employment Protection
Chapter 8 Dispute Settlement Procedures
Chapter 9 Freedom of Association and Representative Organizations
Chapter 10 Collective Bargaining and Collective Industrial Action: Coverage and Legal Framework
References