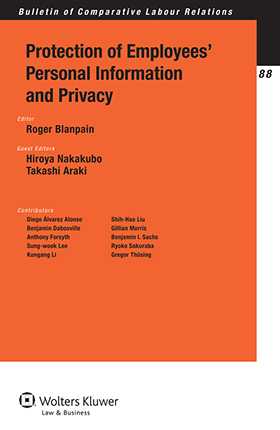 Protection of Employees' Personal Information and Privacy
Format
Softcover
Softcover
Available: Ships in 3-5 Business Days
Price
This product is available for the standing order program.
Add to Cart
Bulletin of Comparative Labour Relations Series Volume 88
This collection of essays – an outcome of the 12th Comparative Labour Law Seminar (Tokyo Seminar) hosted by the Japan Institute for Labour Policy and Training – presents detailed country reports on the status of employee privacy law in Australia, China, France, Germany, Japan, Korea, Spain, Taiwan, the United Kingdom, and the United States.
The papers were presented by distinguished labour law scholars, and are reproduced here with some revisions to reflect the lively discussions that took place at the meeting. For each country, the topics examined include the following:
default rules regarding employees' personal information and privacy;
regulatory schemes and available remedies against violation;
what personal information an employer is entitled to obtain;
ways of striking a balance between employers' legitimate interests and employees' privacy;
safeguards designed to secure non-coercive employee consent;
drug and alcohol testing;
surveillance of employees' off-duty conduct;
disclosure of a disciplined employee's name or other work-related information;
employee's right to access personal information retained by the employer;
information used to care for employees' health and safety and to consider family situations; and
prior employer's sharing of personal information with a prospective new employer.
In this relatively new area of labour and employment law, in which tools are still developing as new problems emerge in real workplaces, the book's overall comparative viewpoint is especially valuable. Scholars and practitioners alike will appreciate the insight gained into how specific national trends exhibit overlap and difference from a global perspective
Resources
Sample Chapter(s)
Table of Contents
Pages
272
Last Updated
09/24/2014
Update Frequency
As Needed
Product Line
Kluwer Law International
ISBN
9789041156082
SKU
10058435-0001
Notes on the Contributors
Introduction Hiroya Nakakubo & Takashi Araki
Chapter 1 A Thin Wall of Privacy Protection, with Gaps and Cracks: Regulation of Employees' Personal Information and Workplace Privacy in Australia. Anthony Forsyth
Chapter 2 The Employee Privacy Protection in China. Kungang Li
Chapter 3 Protection of Employee's Personal Information and Privacy in France. Benjamin Dabosville
Chapter 4 Data Protection in the Employment Relationship: The German View. Gregor Thüsing, Gerrit Forst, Stephan Pötters & Johannes Traut
Chapter 5 Protection of Personal Information and Privacy in the Japanese Workplace. Ryoko Sakuraba
Chapter 6 Protection of Employees' Personal Information and Privacy at a Crossroads in Korea.Sung-Wook Lee
Chapter 7 Protection of Employees' Privacy and Personal Information in Spain: General Patterns and Case Law Trends. Diego Álvarez Alonso
Chapter 8 Protection of Employees' Personal Information and Privacy in Taiwan. Shih-Hao Liu
Chapter 9 Protection of Employees' Personal Information and Privacy in English Law. Gillian Morris
Chapter 10 Privacy as Sphere Autonomy.Benjamin I. Sachs