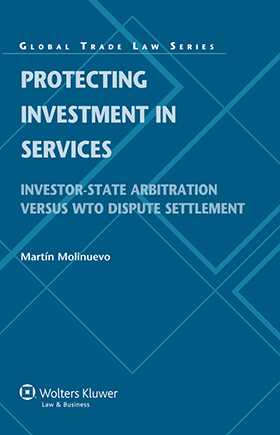 Protecting Investment in Services. Investor State Arbitration versus WTO Dispute Settlement
Format
Hardbound
Hardbound
Available: Ships in 3-5 Business Days
Price
This product is available for the standing order program.
Add to Cart
International economic relations are governed by two bodies of international law. Trade in goods and services is the domain of international trade law, embodied in the WTO agreements. Foreign investment is governed by international investment law, consisting of a vast network of investment agreements, including bilateral investment treaties (BITs) and preferential trade agreements (PTAs). These two different fields of international law share a large area of overlap: foreign investment in services, around 55% of all global direct investment, is covered by both investment agreements and the WTO General Agreement on Trade in Services (GATS). Since the rights and obligations featured in the two frameworks are not always compatible, this legal overlap reduces transparency and undermines governments' regulatory capacity in an unanticipated manner.
This is the first book to tackle investment law and trade law jointly, and to compare the principles, rules, and dispute-settlement mechanisms of investment agreements with the multilateral framework of the WTO/GATS. Among the many invaluable questions the book addresses are the following:
What are the substantive rules that apply to investment in services under investment agreements and the GATS?
How do these disciplines differ? Which offers the best protection for investors in services and do they affect the governments' policymaking capacity?
Who can gain access to investor-State arbitration and WTO dispute settlement?
The in-depth analysis, supported by an extensive review of existent jurisprudence, provides a thorough explanation of treaty standards like most favoured nation, national treatment, fair and equitable treatment, domestic regulation, and transparency, as well as procedural rules on access to the dispute-settlement mechanisms and enforcement procedures.
| | |
| --- | --- |
| Last Updated | 12/14/2011 |
| Update Frequency | As Needed |
| Product Line | Kluwer Law International |
| ISBN | 9789041138279 |
| SKU | 10059417-0001 |
List of Abbreviations.
Acknowledgements.
Part I Presentation and Background.
Chapter 1 Introduction.
Part II Access to International Fora on Trade and Investment.
Chapter 2 Dispute Settlement in International Economic Law.
Chapter 3 Access to Dispute Settlement Procedures.
Part III Substantial Rights Granted To Foreign Investors In Services.
Chapter 4 Admission and Establishment.
Chapter 5 Post-establishment MFN and NT Obligations.
Chapter 6 Minimum Standards of Treatment.
Chapter 7 Expropriation.
Part IV Remedies and Enforcement in International Trade and Investment Disputes.
Chapter 8 Legal Remedies in International Economic Disputes.
Chapter 9 Means of Enforcement in International Economic Fora.
Part V Overview and Concluding Remarks.
Chapter 10 Conclusion.
Bibliography.
Case Law.
Index.