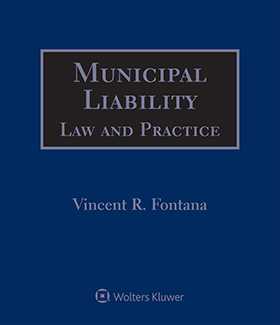 Municipal Liability: Law and Practice, Fourth Edition
Format
Looseleaf
Looseleaf
Available: Ships in 3-5 Business Days
Price
This product is available for the standing order program.
Add to Cart
Municipal Liability: Law and Practice, Fourth Edition provides insightful analysis of the civil rights statutes—such as Sections 1981, 1982, and 1983—and the essential Supreme Court cases, plus fully up-to-date explanations on how the courts are expanding or limiting plaintiffs' rights against municipalities and their public officials. It gives you clear and thorough discussions on how to establish causes of action and assert defenses, who carries the burden of proof, procedural concerns, the particular factors that different courts look for to determine liability, attorneys' fees,damages and much more.
Potential civil rights violations by municipalities covered in this two volume resource include:
E-Mail in the Workplace: Fully grasp the balance between employee privacy rights and employer surveillance rights. The Electronic Communications Privacy Act (ECPA),The Wiretap Act, and The Stored Communications Act are all examined. Sample access and disclosure forms are included.
Employment Discrimination: You'll find out how to bring an action—and defend against one— for claims under Title VII (including a detailed discussion of sexual harassment claims); The Civil Rights Act of 1991; the Age Discrimination in Employment Act (ADEA); and the Americans with Disabilities Act (ADA). Plus, several state anti-discrimination laws are discussed to illustrate new developments you need to know.
First Amendment Issues: Topics include about the impact on First Amendment issues involving freedom of speech, limitations on use of public property, freedom of religion, restrictions on the advertising of alcohol and cigarettes on public ways; and more.
Municipal Zoning: Topics include establishments that provide adult education; video arcades; the use of building moratoria to slow down development; and liability arising out of the failure to issue a building permit or properly inspect a facility before issuing a certificate of occupancy.
Police Misconduct: Topics include liability for police officers, supervisors and municipalities; how to show illegal searches, excessive use of force and other violations;malicious prosecution, prisoners' rights and freedoms; exhausting state remedies; and more.
Previous Edition: Municipal Liability: Law and Practice, Third Edition, ISBN 9780735565203
| | |
| --- | --- |
| Pages | 3326 |
| Last Updated | 08/10/2021 |
| Update Frequency | Annually |
| Product Line | Wolters Kluwer Legal & Regulatory U.S. |
| ISBN | 9781543802061 |
| SKU | 10064757-7777 |
VOLUME 1
The Civil Rights Act of 1964: Title VII
The Civil Rights Act of 1991
Analysis of the Americans with Disabilities Act of 1990
The Age Discrimination in Employment Act
Sexual Harassment in the Workplace under Title VII
Analysis of Various State Antidiscrimination in Employment Laws
Property Rights
Police Misconduct
The Civil Rights Act of 1871- 42 U.S.C. § 1983
The First Amendment to the United States Constitution
VOLUME 2
The Right to Vote
Attorneys' Fees
Defenses
Zoning
Relief - Damages
Jury Instructions
Discovery
Legality and Privacy Issues of E-mail in the Workplace
State Freedom of Information Law
Open Meetings Law
Table of Cases
Index