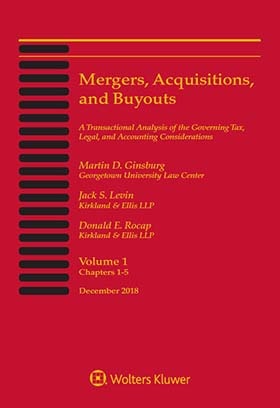 Mergers, Acquisitions, and Buyouts Online
Mergers, Acquisitions, and Buyouts gives practitioners the information, analysis and hands-on skills to successfully structure deals that ensure the greatest financial and tax benefits for your clients. This unsurpassed reference covers not only the federal income tax aspects of acquisitions, but also the many other aspects of corporate acquisitions, including state corporate law, securities law, accounting, fraudulent conveyance law, antitrust reporting, and contract terms that are important in negotiating, structuring, and effectuating an acquisition.
Step-by-Step Guidance on Every M&A Topic
Ginsburg and Levin go step by step through every aspect of structuring a winning transaction. Included is detailed coverage of such vital topics as:
taxable vs. tax-free acquisitions
double tax vs. single tax on sellers
stepped-up basis vs. carryover basis for acquired assets
deductibility of interest on amounts borrowed to pay for an acquisition
allocating to covenants not to compete and other intangibles
obtaining the benefits of NOLs and other tax attributes
handling stock options and other executive compensation
SEC considerations
and more.
Tailor Agreements to Your Clients' Specific Needs
Mergers, Acquisitions, and Buyouts
provides in-depth analysis of typical transaction permutations and hundreds of real-life examples. Easy-to-follow checklists and flow charts also ensure that practitioners adhere to all the proper steps. With the help of this expert guide, it's easy to determine whether the tax burden falls on the seller, the buyer, or the IRS. In addition, the book features well-written model agreements that provide a complete document geared to your clients' particular interests, clauses tailored for various individual situations, and specific language to use for all the variations likely to be encountered..
| | |
| --- | --- |
| Product Line | Wolters Kluwer Legal & Regulatory U.S. |
| SKU | 000000000010015175 |