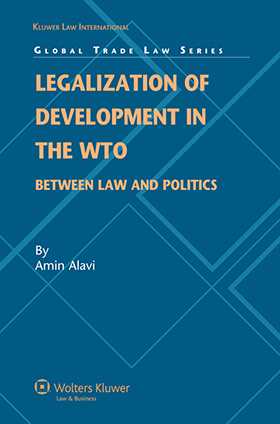 Legalization of Development in the WTO: Between Law and Politics
Format
Hardbound
Hardbound
Available: Ships in 3-5 Business Days
Price
This product is available for the standing order program.
Add to Cart

It's often said that the WTO's Dispute Settlement Understanding (DSU) works more in favor of the richer members with their vastly greater resources. On the other hand, one of the principal objectives of the DSU was to create a fairer system, in which every member could bring forward a complaint, have it fully investigated, obtain a ruling on the compatibility of the measure or practice with WTO rules, and – more generally – "to have its day in court". The guiding principle was intended to be: "Every member is equal before the law", and this was designed to lead to fairer and more equal opportunities than a system where power politics could, and did, influence the results.
This thoughtful and timely resource will examine the concept of "development" as both a political and legal norm - designed to safeguard the special interests of developing countries in international trade – in the context of GATT and WTO law.
Among the critically important questions addressed…
How can the political concept of development be incorporated in GATT/WTO law?
Which areas of GATT/WTO law address development?
How can a GATT/WTO legal normal affect a political process?
How can the GATT/WTO legal regime be made more flexible?
How has the GATT/WTO legal regime evolved vis-à-vis developing nations?
What are the political and legal aspects of the DSU?
How do states utilize the political/legal system and its dispute settlement mechanisms?
How does the GATT/WTO judicial system deal with the political concept of development?
In the context of the DSU, what is the nature and significance of the conflict between developing and developed countries
| | |
| --- | --- |
| Last Updated | 11/20/2008 |
| Update Frequency | As Needed |
| Product Line | Kluwer Law International |
| ISBN | 9789041127952 |
| SKU | 10059335-0001 |
Index of WTO Cases. Abbreviations. Acknowledgements.
1.
Introduction
2.
Regulation of International Relations: a Legal Reading of Regime Theory
3.
Developing Countries' Special Status in the GATT and WTO
4.
Dispute Settlement in GATT to WTO
5.
On the (Non-)Effectiveness of the WTO's Special and Differential Treatments in the Dispute Settlement Process
6.
African Countries and WTO's Dispute Settlement Mechanism
7.
Conclusion. List of References. Index.