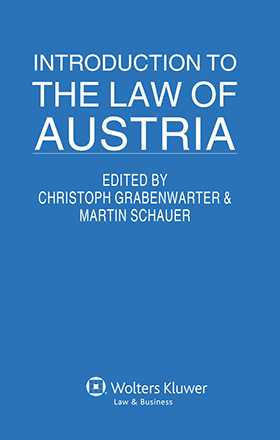 Introduction to the Law of Austria
Format
Hardbound
Hardbound
Available: Ships in 3-5 Business Days
Price
This product is available for the standing order program.
Add to Cart
Introduction to the Laws.....Series Volume 16
With its legacy as the centre of one of the greatest empires of modern history, Austria's legal system has for long been enormously influential worldwide. A European Union Member State since 1995, Austria continues to enjoy its role as a major centre of international business and tourism. Austria has also become host to numerous international organisations.
In sixteen chapters, each written by a well-known Austrian law professor, this book provides English-speaking legal practitioners and academics with a comprehensive knowledge of the basic institutions, principles and rules of Austrian law. Encompassing all the major fields of legal practice, Introduction to the Law of Austria will provide an essential understanding of the Austrian legal system, so that users can become familiar with law and legal processes in Austria and pursue further research on specific Austrian legal matters.
The book covers the following topics:
general introduction and sources of Austrian law;
constitutional law;
administrative law;
contracts;
torts;
property law;
legal persons and business associations;
family and inheritance matters;
labour law;
private international law;
criminal law;
the laws of civil and criminal procedure; and
tax law.
The authors, all experts in their areas of specialty, focus on particular fields and provide the German equivalents of English terminology. A comprehensive and updated list of books and articles in English on Austrian law is appended.
This concise, practical and up-to-date guide is sure to provide interested parties with a speedy and reliable opening to many areas of Austrian law they need to learn about. Both a useful handbook for practitioners and a comprehensive survey of Austrian law, it offers more than sufficient information and guidance to navigate through any legal proceeding with an Austrian element. Lawyers and scholars will find here an overview that will continue to be useful as a resource in facing and overcoming the challenges inherent in engaging with Austria's legal realities.
| | |
| --- | --- |
| Resources | Table of Contents |
| Pages | 328 |
| Last Updated | 05/22/2015 |
| Update Frequency | As Needed |
| Product Line | Kluwer Law International |
| ISBN | 9789041146793 |
| SKU | 10059288-0001 |
List of Editors and Contributors
Preface
Chapter 1 Constitutional Law Christoph Grabenwarter
Chapter 2 Administrative Law Anna Gamper
Chapter 3 The Law of Persons Martin Schauer & Julia Kienast
Chapter 4 Contracts Monika Hinteregger
Chapter 5 Commercial Contracts Friedrich Harrer
Chapter 6 Tort Law Ferdinand Kerschner & Erika Wagner
Chapter 7 Law of Property Bernhard A. Koch & Kristin Nemeth
Chapter 8 Family Law Astrid Deixler-Hübner & Sebastian Reiter
Chapter 9 Law of Succession Constanze Fischer-Czermak & Katharina Windisch
Chapter 10 Company Law Susanne Kalss
Chapter 11 Introduction into Austrian Labour Law Franz Marhold
Chapter 12 Private International Law Brigitta Lurger
Chapter 13 Civil Procedure Paul Oberhammer
Chapter 14 Criminal Law and Criminal Procedure Peter Lewisch
Chapter 15 Austrian Tax Law Michael Lang & Erich Schaffer
Selected Bibliography