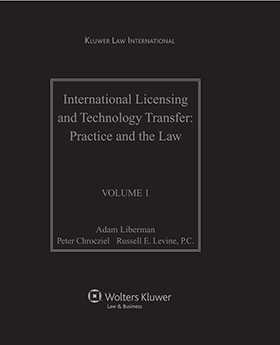 International Licensing and Technology Transfer: Practice and the Law
Looseleaf
Available: Item ships in 3-5 Business Days
This product is available for the standing order program.
Buy Now
International Licensing and Technology Transfer: Practice and the Law provides an authoritative, single-source commentary on licensing in an international context. The publication is written by practitioners for practitioners, and provides many useful insights into both the law and practice involved in international licensing.
Only International Licensing and Technology Transfer: Practice and the Law delivers: ;
A Master Agreement to be used as a patent license template by parties entering into a licensor/licensee relationship
Clause-by-clause commentary, both generic and on a country-by-country basis
Insights into how clauses will likely be interpreted under the systems of the world's key jurisdictions
An overview of the legislation, rules and policies regarding and affecting licensing on a country-by-country basis
Step-by-step explanations of the stages involved in preparing to enter into and negotiating a license agreement, including an in-depth discussion of both licensor and licensee due diligence
Methods for determining or reliably estimating the value of the intellectual property being licensed
Coverage of the tax considerations associated with the structuring of an international license
Insights into antitrust issues that licensing professionals need to take into account when drafting and negotiating an international license agreement
Review
"This book will serve as an excellent resource for licensing practitioners. Although it is international in scope, it will still be useful for practitioners who only license domestically. By the highlighting of the differences so succinctly, the reader can better understand the fundamental principles underlying practice in the reader's own jurisdiction. The editors have achieved the unusual- a book that flows relatively seamlessly from one contributor to another. Some clauses are shown to be licensee friendly and some are steps towards a licensor's position and some are designed for the licensor's position. This is very helpful. When the clauses are not so identified, often the commentary will provide insight into the differing positions. Here the strong editorial control has resulted in a highly integrated practical book which will be used continually by practitioners who strive for best practices. This book fills a serious gap in our literature. It will be a highly value resource for the experienced practitioner, for whom there is far too little material available. The strong editorial control has produced a very practical book and makes available complex material in a readily available manner."
By John T. Ramsay in Les Nouvelles, September 2008
Chapter 1 Introduction by Russell E. Levine
Chapter 2 Licensing Intellectual Property Rights: Legislation, Regulation, Directives and Policies
Chapter 3 Preparing to Enter into and Negotiating a License by Adam Liberman and Amalia Stone
Chapter 4 Intellectual Property Valuation and Royalty Determination by Tim Heberden
Chapter 5 Tax Considerations in Structuring International Licensing and Technology Transfer
Chapter 6 Competition Law
Chapter 7 Patent Licenses by Adam Liberman, Peter Chrocziel, and Russell E. Levine, et al.
Chapter 8 Other Agreements