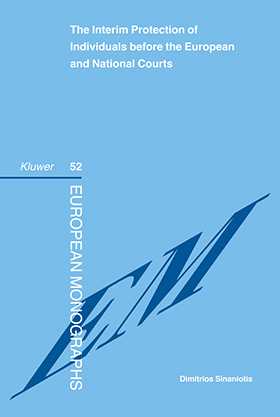 Interim Protection of Individuals before the European and National Courts
Format
Hardbound
Hardbound
Available: Ships in 3-5 Business Days
Price
This product is available for the standing order program.
Add to Cart
It is well understood in law that length of procedure can have an enormous impact on the effectiveness of judicial protection. Time is necessary to examine evidence and analyse facts. Yet circumstances often conspire to prove the truth of the saying that `justice delayed is justice denied. It is in recognition of this dilemma that legal systems inevitably evolve the concept of interim relief.
In this groundbreaking book, interim relief proceedings under EC law are seen as a paradigm for the understanding of the difficulties that individuals face when pursuing judicial protection of Community rights, whether at the European or national levels. Interim relief is, in this analysis, the fundamental safeguard of all rights against the power of Community institutions to adopt measures affecting them.
The author leaves no relevant issue unexamined. These issues include:
the relationship between the direct action and the application for interim relief;
interpretation of the conditions for interim relief under the EC Treaty
the principles of `equivalence and `effectiveness.
;the uniform conditions for interim relief according to Zuckerfabrik and Atlant
In the course of his analysis, the author undertakes an extensive examination of the relevant case law. He demonstrates that even the new (since Factortame 1990) system of interim relief has not incorporated any safeguard for the equal treatment of individuals, and that in many cases applications for interim relief will continue to be dismissed as inadmissible. His penetrating analysis clears the way for future amendment of the EC Treaty, as well as any harmonisation of procedural rules, which could promote the effective interim protection of Community rights.
As a fundamental treatment of this aspect of the crucial issue of the role of the individual in the European Union, this study is without peer. It will be of value to students of European law, to policymakers, and to all those interested in the ongoing process of European integration.
| | |
| --- | --- |
| Resources | DM Piece |
| Last Updated | 07/06/2006 |
| Update Frequency | As Needed |
| Product Line | Kluwer Law International |
| ISBN | 9789041124982 |
| SKU | 10059210-0001 |
Introduction. Acknowledgements. 1. Nature and Significance of Interim Relief. 2. Interim Relief before the European Courts. 3. Interim Relief before the National Courts. 4. Conditions for Granting Interim Relief before the National Courts. 5. The Consequences of the ECJ's Case-law on the Interim Protection of Individuals EC Rights. 6. The Effectiveness of the System of Interim Protection of Individuals under EC Law. Conclusion. Bibliography.