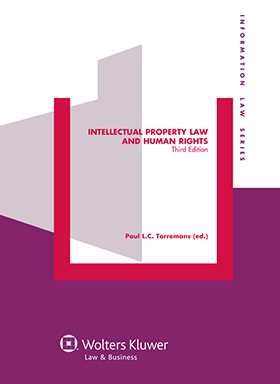 Intellectual Property and Human Rights. Third Edition
Hardbound
Available: Ships in 3-5 Business Days
This product is available for the standing order program.
Add to Cart
Information Law Series Volume 34
As human rights issues continue to arise in an intellectual property context, this well-established cornerstone work in the debate has kept pace with developments and trends in this nexus of legal issues. Now, in an expanded and updated third edition, well-known authorities in both intellectual property law and human rights law present in-depth analysis and discussion of the essential issues, centred on the relations between intellectual property and freedom of expression and the fundamental right to privacy in an intellectual property environment. Topics new to this edition include the following:
nanotechnology and intellectual property rights and human rights;
the issue of plain packaging;
copyright and online communication;
gene patents and human rights;
investment in brands and basic rights and free competition rules in the EU; and
fair use, transformative use, and the U.S. First Amendment.
In the years to come, more and more lawyers will be confronted with issues involving the interaction of intellectual property and human rights. Practitioners, academics, and policymakers in both fields will continue to recognize and use this preeminent resource as a springboard to the future development of this crucial area of legal theory and practice.
| | |
| --- | --- |
| Pages | 968 |
| Last Updated | 07/28/2015 |
| Product Line | Kluwer Law International |
| ISBN | 9789041158369 |
| SKU | 10059203-0001 |
Editor and Contributors
Preface
Part I The Relationship between Intellectual Property and Human Rights
Chapter 1 How Intellectual Property and Human Rights: Can Live Together: An Updated Perspective Daniel J. Gervais
Chapter 2 The New Innovation Frontier? Intellectual Property and the European Court of Human Rights Laurence R. Helfer
Chapter 3 Challenges to the Development of a Human Rights Framework for Intellectual Property Peter K. Yu
Chapter 4 Reconceptualizing the Constitutional Dimension of Intellectual Property Christophe Geiger
Chapter 5 Intellectual Property Rights and Human Rights: Coinciding and Cooperating Gemma Minero
Chapter 6 Proportionality and Balancing within the Objectives for Intellectual Property Protection Henning Grosse Ruse-Khan
Chapter 7 Copyright (and Other Intellectual Property Rights) as a Human Right Paul L.C. Torremans
Part II Copyright and Human Rights
Chapter 8 Copyright and Freedom of Expression in Canada Myra J. Tawfik
Chapter 9 Fair Dealing Defences Patrick Masiyakurima
Chapter 10 Copyright Law Reform through a Human Rights Lens Graeme W. Austin & Amy G. Zavidow
Chapter 11 The Conflict between the Human Right to Education and Copyright Sharon E. Foster
Chapter 12 Copyright and the Two Cultures of Online Communication Alexander Peukert
Chapter 13 Fair Use, Transformative Use and the First Amendment Marshall Leaffer
Part III Trademarks, Related Rights and Human Rights
Chapter 14 Is There a Right to an Immoral Trademark? Jonathan Griffıths
Chapter 15 Trademarks and Human Rights Marco Ricolfi
Chapter 16 Folklore, Human Rights and Intellectual Property Andrea Radonjanin
Chapter 17 Geographical Indications and Human Rights Dev Gangjee
Chapter 18 Is Taking Advantage Always Unfair?: Balancing Interest in Investment in Brands with Basic Rights and Free Competition Rules in the EU Nigar Kirimova
Chapter 19 Trademarks and Human Rights: The Issue of Plain Packaging Owen H Dean
Part IV Rights in Information
Chapter 20 Recapturing Liberated Information: The Relationship between the United Kingdom's Freedom of Information Act 2000 and Private Law Restraints on Disclosure Jonathan Griffıths
Chapter 21 'Holding the Line': The Relationship between the Public Interest and Remedies Granted or Refused, Be It for Breach of Confidence or Copyright Alison Firth
Chapter 22 Privacy, Confidentiality and Property Peter Jaffey
Chapter 23 Developing a Right of Privacy for Corporations Jacqueline Nwozo
Chapter 24 Personalized Medicine, Intellectual Property Rights and Human Rights Sven J.R. Bostyn
Chapter 25 Human Stem Cell Research: Ethical and Religious Concerns over Patenting Biotechnological Inventions in Malaysia Ida Madieha Azmi & Majdah Zawawi
Chapter 26 Intellectual Property Rights and Human Rights for Nanotechnology in Malaysia Norain Binti Ismail
Chapter 27 Gene Patents and Human Rights Geertrui Van Overwalle
Index