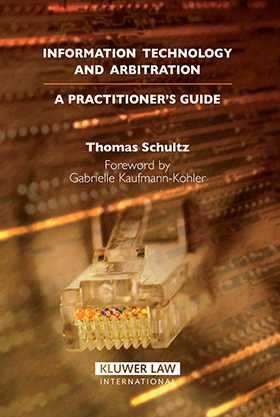 Information Technology and Arbitration: A Practioner's Guide
Softcover
Available: Ships in 3-5 Business Days
Buy Now
In this first handbook on Online Dispute Resolution (ODR) what is likely to become one of tomorrow's incontrovertible topics in the field of arbitration, a well-known expert in ODR guides the reader through the reasons to use IT and its practicalities, the choices made by the prevalent arbitration institutions in this regard, and the legal limits to the use of such technologies. His powerful 'toolbox' includes a wealth of practice guidelines, drafting suggestions for arbitrators or parties wishing to use IT, and checklists and reminders to be used in practice. Among the efficiency-promoting IT tools thoroughly explained are the following:
• case management websites;
• videoconferencing;
• live notes;
• ODR platforms as ready-to-use solutions;
• online filing; and
• e-mail.
The presentation focuses on the IT systems developed by major arbitral institutions like the International Chamber of Commerce (ICC), the American Arbitration Association (AAA), and the World Intellectual Property Organization (WIPO), with detailed guidance through their case management websites, virtual case rooms, extranets, and other IT tools allowing multiparty communications.
| | |
| --- | --- |
| Publish Date | 07/19/2006 |
| Product Line | Kluwer Law International |
| ISBN | 9789041125156 |
| SKU | 10058110-0001 |
Contents, Abbreviations, Foreword, Preface, Introduction
Chapter 1: Setting the stage I.
Developments of IT in dispute resolution
II.
Why IT?
III.
When to use IT?
IV.
How to use IT?
V.
Fundamental communication
Chapter 2: Information technologies for arbitration I.
Case management
II.
Videoconferencing
III.
Other uses of technology
IV.
Technologies of the future? 3D Shared virtual workspaces
Chapter 3: Current practice at arbitration institutions I.
State of practice
II.
Guidelines of the International Chamber of Commerce
Chapter 4: Legal framework I.
Due process issues
II.
Confidentiality issues
Chapter 5: Practice guidelines I.
Frequent concerns and responses
II.
E-mailing
III.
Videoconferencing
IV.
Defining a communications protocol
Chapter 6: Drafting suggestions I.
Arbitration agreements
II.
Procedural order
III.
Initiation form
IV.
Incident form
Chapter 7: Checklists, reminders, and charts I.
Main tasks
II.
E-mailing
III.
Videoconferencing
VI
. Charts for IT usage, Bibliography, List of figures Index, About the Author