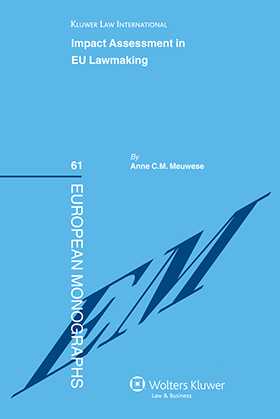 Impact Assessment in EU Lawmaking
Format
Hardbound
Hardbound
Available: Ships in 3-5 Business Days
Price
This product is available for the standing order program.
Add to Cart
Recent constitutional thinking has directed its attention to the profound impact of 'soft' norms on the way legislation is made. This book identifies the European Union's impact assessment regime as a source of these norms. In 2002 the European Commission – later followed by the European Parliament and the Council of Ministers – committed to performing rigorous assessment of the economic, social and environmental impacts of policy options before adopting (legislative) proposals. Applying a 'constitutional lens' to this 'regulatory' topic, Anne Meuwese examines both the details and the framework of IA in EU lawmaking to date, drawing attention to its strengths, its contradictions, and its power to enhance the deliberative quality of legislative debates.
Integrating the perspectives of political scientists and economists with the concerns of legal scholars and practitioners, Dr Meuwese describes and interrelates such aspects of the subject as the following:
• the potential role of impact assessment as a catalyst of legal principles, by emphasising or overriding norms that govern both the procedural and the substantive aspects of the EU legislative process;
• the 'constitutional tasks' of impact assessment as applied to European legislative proposals, especially relating to subsidiarity, proportionality, and the precautionary principle;
• the formal and informal extension of the scope of impact assessment beyond the co-decision procedure;
• the question whether impact assessment crosses the line between informing the legislator and fettering legislative discretion.
In the course of her analysis Dr Meuwese develops models for possible usages of IA in EU lawmaking, analyses the implementation of impact assessment processes in the European Commission, the European Parliament and the Council as well as the roles of relevant 'co-actors', and offers results of empirical research in the forms of a survey of EU legislative practice and in-depth case studies of four EU legislative dossiers.
Impact Assessment in EU Lawmaking is a significant milestone in a number of emerging legal debates around Europe's constitutional future , accountability regimes, 'meta-regulation,' and the growing awareness of de facto binding norms. Its vital implications reach far into the future, not only for EU legislation but for the entire field of constitutional law as it adapts to prevailing structures of public power everywhere
Preface. List of Abbreviations. List of Tables, Boxes and Figures.
1.
Introduction.
2.
Informing the EU Legislator through IA.
3.
IA in the European Commission.
4.
From Commission IA to EU IA.
5.
EU IA beyond Codecision.
6
. Case-Studies I: Diverging Uses of IA in Environmental Lawmaking.
7
. Case-Studies II: Making the Case for EU Action: Market Liberalisation and JLS.
8.
Conclusion: The Constitutional Significance of IA.
Appendix:
List of Interviewees. Bibliography. Table of Cases. Table of Documents. Table of EU Secondary Legislation. Index