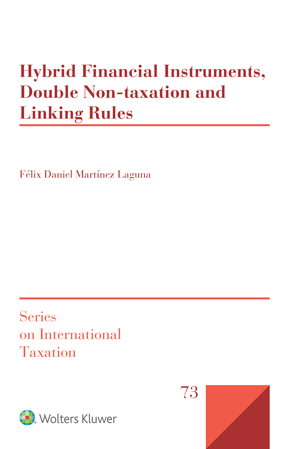 Hybrid Financial Instruments, Double Non-taxation and Linking Rules
Format
Hardbound
Hardbound
Available: Ships in 5-7 Business Days
Price
This product is available for the standing order program.
Add to Cart
Hybrid Financial Instruments, Double Non-taxation and Linking Rules focuses on the analysis of double non-taxation stemming from hybrid financial instruments (HFIs) and the solution provided by the Organisation for Economic Co-operation and Development (OECD) and the European Union (EU) tackling double non-taxation related to cross-border HFIs. HFIs are widespread ordinary financial instruments that combine debt and equity features in their terms and design and may lead to double non-taxation across borders. This important book provides a deeply informed and critical analysis and guide to the 'linking rules' developed to combat double non-taxation stemming from HFIs within the framework of the Base Erosion and Profit Shifting project of the OECD and the anti-avoidance initiatives of the EU. These complex rules have now become essential in international taxation.
What's in this book:
This book deals incisively with crucial theoretical and practical issues as the following:
Economic and legal reasons for financing business activity through debt instruments, equity instruments and/or HFIs;
Qualification of financial instruments from different perspectives such as economics, corporate finance, corporate law, financial accounting law, regulatory law and tax law and their interrelation;
The concept of double non-taxation as a mere outcome of parallel exercises of sovereignty by different states and the role it plays within the international debate;
The concepts of tax planning, tax avoidance and the misleading concept of aggressive tax planning within a tax competition international scenario and their relation with HFIs;
Comprehensive policy, legal and technical detail and explanation of the linking rules proposed by the OECD (i.e., BEPS Project Action 2) and the EU (e.g., Anti-Tax Avoidance Directive);
The (in)compatibility of linking rules with existing tax treaty rules and EU primary law.
The author refers throughout to relevant model convention provisions, EU case law and a vast number of references of official documentation and literature.
How this will help you:
With its detailed attention to the concept and legal nature of HFIs and double non-taxation, and critical and comprehensive analysis of the linking rules developed by the OECD and the EU, this provocative book allows to reconsider the legality of these linking rules and will quickly become a much-used problem-solving resource for policymakers, tax practitioners, tax authorities and tax academics. This book allows to rethink whether linking rules relate to a solution or create actual legal issues. This book will be an important practical guide in double non-taxation that will benefit practitioners, academics and officials.
| | |
| --- | --- |
| Last Updated | 06/13/2019 |
| Update Frequency | As Needed |
| Product Line | Kluwer Law International |
| ISBN | 9789403510743 |
| SKU | 10071821-0002 |
Foreword
List of Abbreviations
Acknowledgements
Introduction
CHAPTER 1
Hybrid Financial Instruments: From Corporate Logic to Tax Consequence – Cause
CHAPTER 2
Double Non-taxation and the Allocation of Hybrid Financial Instrument in the International Tax Debate: A Problem?
CHAPTER 3
Linking Rules under the OECD Approach: Technical Analysis and Legal (In)compatibility with the Current Legal Scenario – Solution?
CHAPTER 4
Linking Rules under the EU Approach: Technical Analysis and Legal Assessment from an EU Law Perspective – Solution?
Conclusions
Bibliography
Index