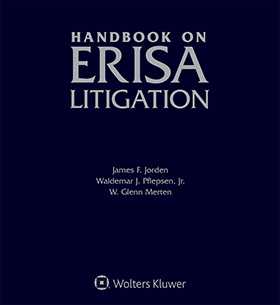 Handbook on ERISA Litigation, Fourth Edition
Select Format
Internet price is for a three-month subscription.
Looseleaf
Internet
Looseleaf
Price
This product is available for the standing order program.
Add to Cart
Internet
Price
Includes 3-month access for one license. Need a demo or annual access?
Contact Sales
Add to Cart
Please note, once you complete your purchase, Cheetah registration instructions and login credentials to access your 3-month online subscription will be emailed to you within one business day.
Handbook on ERISA Litigation cuts through complicated statutory provisions and tells you which ERISA claims are recognized by which courts and how to litigate them. Helpful litigation checklists and forms are provided on key aspects of ERISA litigation as well as hundreds of citations to leading federal and state cases. Every major claim area under ERISA is covered:
Fiduciary liability
Violation of ERISA reporting and notification requirements
ERISA discrimination claims and related statutory claims
Plan termination claims
Overfunded and underfunded plans
Tax litigation
Claims by the U.S. Department of Labor and the Pension Benefit Guaranty Corporation (PBGC)
The Handbook helps you to counsel clients more knowledgeably and to litigate ERISA disputes more effectively by identifying the issues, presenting litigation strategies, and reducing the time needed to prepare pleadings and briefs.
In one, easy-to-read volume, you'll find expert analysis of:
The structure and scope of ERISA, so you can easily determine whether and in what fashion ERISA is relevant to the resolution of a dispute
Exceptions to ERISA and preemption issues, keeping you fully apprised of the extent to which ERISA can be used by or against you, particularly with respect to preemption laws
The procedural rules of the road, providing you with practical insights into jurisdictional, venue, standing, discovery, and evidentiary issues, and how these may affect the outcome of your cases
Note: Online subscriptions are for three-month periods.
| | |
| --- | --- |
| Pages | 1136 |
| Last Updated | 11/11/2020 |
| Update Frequency | Annually |
| Product Line | Wolters Kluwer Legal & Regulatory U.S. |
| ISBN | 9781454862062 |
| SKU | 10044826-7777 |
| | |
| --- | --- |
| Publish Frequency | Annually |
| Product Line | Wolters Kluwer Legal & Regulatory U.S. |
| SKU | 000000000010048444 |
1. OVERVIEW

Introduction to ERISA
Scope of ERISA
Origins of ERISA
Legislative History
Agencies Charged with ERISA's Administration and Enforcement

2. JURISDICTION AND RELATED ISSUES

Does the Claim Relate to an Employee Benefit Plan?
ERISA Claims
Parties with Standing to Sue and Causes of Action Available to Them
Subject Matter Jurisdiction
Venue and Service of Process
Removal

3. PREEMPTION

Source of ERISA Preemption
The Preemption Clause
The Saving Clause
The Deemer Clause
Specific Applications of ERISA Preemption
Procedural Issues

4. FIDUCIARY LIABILITY

Plans Covered by Fiduciary Responsibility Rules
Determining Fiduciary Status
Fiduciary Standards of Conduct
Liability for Fiduciary Breaches
Relief
Statute of Limitations

5. PLAN BENEFITS CLAIMS AND ENFORCEMENT OF BENEFIT RIGHTS

Categories of Benefits Claims
Administrative Filing, Review, and Appeal Procedures
Litigation of Benefits Claims Disputes
Additional Categories of Benefits Claims

6. VIOLATION OF ERISA REPORTING, DISCLOSURE, AND NOTIFICATION REQUIREMENTS

The Key Documents—Reporting and Disclosure
Enforcement
COBRA Notification Requirements
Qualified Medical Child Support Orders

7. SINGLE-EMPLOYER PLAN TERMINATION CLAIMS—OVERFUNDED AND UNDERFUNDED PLANS

Employer's Decision to Terminate a Single-Employer Pension Plan
The Pension Benefit Guaranty Corporation
Termination of the Plan
Liability for Underfunded Plan Terminations
Overfunded Plan Terminations and Excess Asset Reversions
Enforcement Provisions

8. MULTIEMPLOYER PLANS—EMPLOYER CONTRIBUTION AND WITHDRAWAL CLAIMS

Collection of Delinquent Contributions
Return of Employer Contributions—ERISA § 403
Multiemployer Plan Withdrawal Liability

9. ERISA DISCRIMINATION CLAIMS AND RELATED FEDERAL STATUTORY CLAIMS

Burden and Order of Proof
Enforcement Issues
Specific Cases
Related Federal Statutory Claims

10. TAX LITIGATION

Excise Taxes and Excise Tax Litigation
Tax-Related Litigation Under Title I of ERISA
Access to Tax Materials in Litigation

11. PROCEDURAL ISSUES

Trial by Jury
Attorneys' Fees
Class Actions
Arbitrability of ERISA Claims
Attorney-Client Privilege
Expert Witnesses
Settlement

FORMS

Form 1 Notice of Removal
Form 2 Complaint for Benefits
Form 3 Complaint for Appropriate Equitable Relief for Breach of Fiduciary Duty
Form 4 Motion to Dismiss Papers in Action to Recover Disability Benefits—Insurance Policy as an ERISA Plan; Preemption of State Law Contract Claims
Form 5 Motion In Limine to Exclude Testimony on Conclusions of Law

Table of Cases
Table of ERISA Sections
Table of Internal Revenue Code Sections
Table of Parallel ERISA/U.S.C. Citations