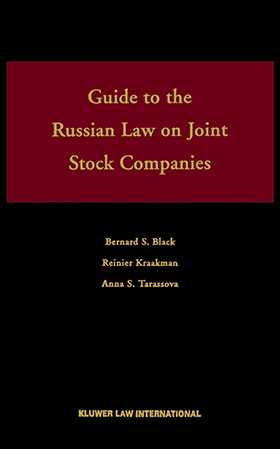 Guide To The Russian Federal Law On Joint Stock Companies,
Format
Hardbound
Hardbound
Available: Ships in 3-5 Business Days
Price
Add to Cart
The Russian Law on Joint Stock Companies, together with the Civil Code, is the principal law regulating the activities of joint stock companies in Russia today. Author Anna Tarassova was its primary Russian drafter; authors Black and Kraakman served as advisors during the drafting process.
Guide to the Russian Law on Joint Stock Companies
is their definitive examination and analysis of Russian Company Law.
The authors have bolstered their own expert, first-hand perspective with the advice and guidance of practicing attorneys who work with this law on a daily basis. Their treatment includes numerous practical components that provide invaluable assistance to practitioners:
detailed explanations of Company Law provisions, including the interplay between various sections, and between the Company Law and the Civil Code;
discussion of ambiguous provisions of the law and how best to interpret these provisions;
practical solutions to troublesome features of the law;
table of differences between the treatment of open and closed joint stock companies;
step-by-step guide to implementing different forms of reorganizations; and
how-to guide for corporate planners on creating a company with only the minimum charter capital permitted by the law.
| | |
| --- | --- |
| Publish Date | 08/01/1998 |
| Publish Frequency | As Needed |
| Product Line | Kluwer Law International |
| ISBN | 9789041106063 |
| SKU | 10057868-0001 |
A Self-Enforcing Model of Company Law for Emerging Markets Overview of the Self-Enforcing Model The National Contexts That Shape Company Law Alternative Approaches to Company Law Governance Structure and Voting Rules Structural Constraints on Particular Company Actions Remedies
Part II: Chapter-by-Chapter Analysis of the Law. Concept of a Joint Stock Company under the Civil Code. General Scope of the Company Law General Provisions of the Law
Creation, Reorganization, and Liquidation of a Company Charter Capital; Shares and Other Securities Issuance of Shares and Other Securities Dividends Shareholder Register The Shareholder Meeting Board of Directors and Executive Organ Acquisition and Redemption of Shares Major Transactions and Control Transactions Transactions Involving a Conflict of Interest Control over a Company's Financial-Economic Activity Financial Accounts and Information Disclosure Final Provisions