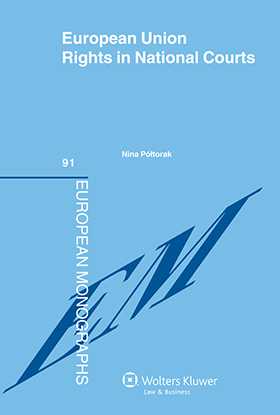 European Union Rights in National Courts
Format
Hardbound
Hardbound
Available: Ships in 3-5 Business Days
Price
This product is available for the standing order program.
Add to Cart
European Monographs Series Volume 91
This book provides the in-depth analysis of how the rights derived from EU law function in domestic legal proceedings and how EU law influences solutions applied in national law. It fully describes the mechanisms imposed by EU law upon the instruments of national law, and examines the reasons, manner, and consequences of the required modification of national legal remedies. Among the issues and topics covered are the following:
right to initiate proceedings before a national court;
right to invoke an EU provision in court proceedings;
standard of national court proceedings made available for enforcing EU claims;
claimant's due diligence requirements;
application of interim measures;
challenging final or binding decisions of national organs issued in violation of EU law;
the court's competence to apply EU law of is own motion;
criteria for declaring a time limit reasonable; and
sanctions, restitution, and compensation claims.
Through her meticulous reconstruction and systematisation of the elements that constitute the whole process of execution by national law of rights granted in EU law, the author clearly manifests the extent to which the system as it stands affords the guaranteed level of legal protection. With practical recommendations pertaining to individual legal remedies present in national law – how they must be understood and modified in national court jurisprudence, and what are the rights of an individual demanding that an EU claim be enforced – her thorough analysis of the relevant EU law provisions and the corresponding requirements on national instruments will be of inestimable value to the community of practitioners, jurists, and academics working at the interface of EU law and the law of the Member States.
| | |
| --- | --- |
| Resources | Table of Contents |
| Pages | 416 |
| Last Updated | 01/07/2015 |
| Update Frequency | As Needed |
| Product Line | Kluwer Law International |
| ISBN | 9789041158635 |
| SKU | 10059421-0001 |
List of Abbreviations
Introduction
Chapter 1 EU Law Rights and Their Protection
Chapter 2 Institutional and Procedural Autonomy of the Member States
Chapter 3 EU Law Effectiveness and Effective Legal Protection
Chapter 4 Requirements of Effective Legal Protection
Chapter 5 The Right to Court in EU Law
Chapter 6 Courts and Procedures Meeting the Requirements of Effective Judicial Protection
Chapter 7 The Right to a Fair Trial
Chapter 8 Jurisdiction and Competence of the National Courts
Chapter 9 The Court's Competence to Apply EU Law of Its Own Motion
Chapter 10 National Courts' Competence to Provide Interim Protection
Chapter 11 The Legal Standing (Who Has the Right to Court)
Chapter 12 The Right to Court and Time Limits for Pursuing Claims
Chapter 13 Legal Instruments for Revoking Administrative and Judicial Decisions
Chapter 14 Sanctions, Restitution and Compensation Claims
Bibliography
Rulings and Opinions
Index