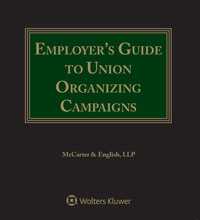 Employer's Guide to Union Organizing Campaigns, 2021 Edition
Select Format
Internet price is for a three-month subscription.
Internet
Internet
Price
Includes 3-month access for one license. Need a demo or annual access?
Contact Sales
Add to Cart
Please note, once you complete your purchase, Cheetah registration instructions and login credentials to access your 3-month online subscription will be emailed to you within one business day.
Employer's Guide to Union Organizing Campaigns, 2021 Edition
The Employer's Guide to Union Organizing Campaigns provides employers and practitioners with how-to practical guidance on anticipating—and reacting to—union activity while staying in compliance with applicable laws. This publication provides employers with proven insights into becoming proactive employers who create work environments where employees are treated fairly—establishing the sort of win-win conditions in which union organizing techniques have less effect.
Note: Online subscriptions are for three-month periods.
| | |
| --- | --- |
| Publish Frequency | Annually |
| Product Line | Wolters Kluwer Legal & Regulatory U.S. |
| SKU | 000000000010073218 |
About the Authors
Foreword
Acknowledgments
Chapter 1
Overview: Labor–Management Relations: Yesterday and Today
§1.01 Is the stage set for organized labor's revival?
§1.02 Board elections: Resurgence or irrelevance?
§1.03 The corporate campaign: The challenge continues
§1.04 Why preserve management rights and resist unionization?
§1.05 About "The Employer's Guide"
Chapter 2
Employment in the 21st Century
§2.01 A changing workplace
§2.02 A changing workforce
§2.03 An evolving culture of work
§2.04 The political landscape
§2.05 Enduring organizing threats
Chapter 3
The "Preferred" Employer
§3.01 The "preferred" employer
§3.02 The preventive self-audit: An essential exercise
§3.03 Staying conflict-free
§3.04 Employee communications programs
§3.05 Ensuring compliance
§3.06 Corporate labor relations strategy
Chapter 4
Elements of Effective Employee Relations
§4.01 The corporate culture
§4.02 Work rules
§4.03 The employee handbook
§4.04 Employee participation programs
§4.05 Progressive discipline
§4.06 Resolving employee complaints
§4.07 Alternative dispute resolution programs
§4.08 Supervisory and managerial training
§4.09 Illustrations 1–4
Chapter 5
Anticipating a Union Campaign
§5.01 Assessing your vulnerability
§5.02 Expressing opposition to a union
§5.03 Manager training on the law of organizing
§5.04 Bargaining unit vulnerability analysis
§5.05 Recognizing the early warning signs
§5.06 Preempting the union's message
Chapter 6
Understanding the New Union Movement
§6.01 Introduction
§6.02 The dual-front union movement
§6.03 Change to win and the modern template for organizing: Not always smooth sailing
§6.04 The AFL-CIO embraces the new model
§6.05 Organizing under the new model
§6.06 Embracing new demographics
§6.07 Embracing new models for organizing
§6.08 Embracing new tactics and technologies
§6.09 A national—or global—approach
§6.10 Conclusion
Chapter 7
The Old Model: Enduring Tools for Organizing
§7.01 A foot in the door
§7.02 The organizational meeting
§7.03 Traditional arguments
§7.04 Other organizing techniques
Chapter 8
Contemporary Organizing Techniques
§8.01 Corporate campaigns
§8.02 Industry-wide campaigns
§8.03 Neutrality agreements
§8.04 Voluntary recognition
§8.05 Framework agreements
§8.06 Another word on unlawful recognition
Chapter 9
The Corporate Campaign: What to Expect
§9.01 Introduction
§9.02 Company research and profiling
§9.03 Inside labor pressure
§9.04 Unfair labor practice charges
§9.05 The court of public opinion
§9.06 Legislative initiatives
§9.07 Litigation as weapon
Chapter 10
The Employer Counter-Offensive
§10.01 Introduction
§10.02 Responding to a request for "card check"
§10.03 Questioning union support
§10.04 A campaign, not "interference"
§10.05 Investigate, then educate
§10.06 Educating employees
§10.07 Avoiding unfair labor practices
§10.08 Legal action against union misconduct
§10.09 Strike preparation and response
§10.10 External counter-organizing resources
§10.11 When the dust settles…
Chapter 11
Communicating Your Message
§11.01 Introduction
§11.02 Employer's right to free speech
§11.03 Internal communication strategies
§11.04 The arsenal of communication techniques
§11.05 External communications
Chapter 12
Managing Pro-Union Communication
§12.01 Introduction
§12.02 Implementing valid work rules
§12.03 A lawful no-solicitation rule
§12.04 Solicitation in working areas
§12.05 Distribution of literature
§12.06 Organizing by off-duty employees
§12.07 Other union-related activity
Chapter 13
The Board-Conducted Election
§13.01 Introduction
§13.02 Processing the representation petition
§13.03 Bargaining unit determination
§13.04 Election agreements
§13.05 Employer obligations after directions of election
§13.06 Voter eligibility
§13.07 Mail ballot elections
§13.08 The on-site election
§13.09 Policing the polls
§13.10 Counting the ballots
§13.11 Two-union contests and run-off elections
§13.12 Illustrations 1–2
Chapter 14
Post-Election Proceedings
§14.01 Voter challenges
§14.02 Election objections
§14.03 Procedure for filing objections
§14.04 Board review
§14.05 Decertification petitions
§14.06 The employer's campaign
§14.07 If the union wins
§14.08 Illustration 1
Appendices
1 Union Membership (Annual) News Release, Jan. 22, 2020, Bureau of Labor Statistics, U.S. Department of Labor
2 Report of the Acting General Counsel Concerning Social Media Cases, Aug. 18, 2011
3 Report of the Acting General Counsel Concerning Social Media Cases, Jan. 24, 2012
4 Report of the Acting General Counsel Concerning Social Media Cases, May 30, 2012
5 General Counsel's "Guidance on Handbook Rules Post-Boeing," June 6, 2018
6 2015 Representation Case Procedures (Effective April 14, 2015. Superseded in part by 2020 Amendment as adjusted by Federal Court order)
The 2021 Edition brings the practitioner up to date on the latest developments, including the following.
The ongoing developments involving changes to the regulatory framework governing union representation proceedings. After the United States District Court for the District of Columbia issued an injunction against some, but not all, of the regulatory changes announced by the National Labor Relations Board (NLRB) related to new representation case rules, the NLRB has continued to challenge that ruling and the status of the changes remains in flux. Those rules attempted to substantially roll back the NLRB's 2015 "ambush election" rules. The status of the election rules remains in flux, and is likely to be in flux for some time to come, depending on the litigation proceedings.
The many issues that have arisen as a result of the COVID-19 pandemic and the consequent economic disruption.
Prospects for labor law reform following the 2020 Presidential election and the change in administrations.
The potential rise of "minority unions" as an alternate model of organizing.
New regulations concerning notice to employees of their rights upon voluntary recognition of a union and the consequences of failing to provide such notice.
New case examples of the consequences of committing unfair labor practices (see Chapters 11, 12, and 13).
The continued impact of the NLRB's 2017 standard for evaluating whether work rules run afoul of the National Labor Relations Act (see Chapter 12).
The NLRB's new method of evaluating whether two or more bargaining units have merged into a single bargaining unit (see Chapter 13).