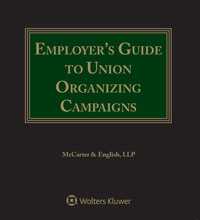 Employer's Guide to Union Organizing Campaigns, 2019 Edition
Select Format
Internet price is for a three-month subscription.
Internet
Internet
Price
Includes 3-month access for one license. Need a demo or annual access?
Contact Sales
Add to Cart
Please note, once you complete your purchase, Cheetah registration instructions and login credentials to access your 3-month online subscription will be emailed to you within one business day.
Employer's Guide to Union Organizing Campaigns, 2019 Edition
Employer's Guide to Union Organizing Campaigns helps you guide your company through every stage of union organizing campaigns, so that you can react quickly, effectively, and legally even before organizing begins. It provides employers with proven insights into becoming proactive employers who create work environments where employees are treated fairly—establishing the sort of win-win conditions in which union organizing techniques have less effect.
Whether you're looking to be proactive - or react effectively - you need the insights and the tools to create effective and legally compliant policies and responses to union activity. Employer's Guide to Union Organizing Campaigns provides:
How-to practical guidance on anticipating - and reacting to - union activity while staying in compliance
Sample letters, checklists, and documents ready for your immediate use
Up-to-date coverage of current case law
Employer's Guide to Union Organizing Campaigns delivers expert, step-by-step guidance to help you:
Understand how today's organizing environment can affect your company
Recognize union tactics such as the corporate campaign and the request for card-check recognition
Effectively respond to union organizing without violating the law, alienating the workforce or creating ill-will in the community
Employer's Guide to Union Organizing Campaigns, 2019 Edition, has been revised to include:
The impact on the private sector of the U.S. Supreme Court's decision in Janus v. AFSCME holding public sector agency fees unconstitutional
Increased union activity outside the contours of the National Labor Relations Act (NLRA), such as strikes by public school teachers without legal protection and graduate student unions that are avoiding National Labor Relations Board (NLRB) processes
The NLRB's revised standard for distinguishing between employees and independent contractors in its SuperShuttle DFW case
The various initiatives adopted by NLRB General Counsel Peter Robb to actively present the NLRB with opportunities to alter existing precedent
New case examples that highlight longstanding issues in modern workplaces
Updated sections on the landscape of American jobs and industry
The impact of the U.S. Supreme Court's decision in Epic Systems Corp. v. Lewis, which held that the NLRA does not prohibit class waivers in arbitration agreements
And more!
Note: Online subscriptions are for three-month periods.
| | |
| --- | --- |
| Publish Frequency | Annually |
| Product Line | Wolters Kluwer Legal & Regulatory U.S. |
| SKU | 000000000010073218 |
Chapter 1. Overview: Labor-Management Relations Today
§1.01 Is the stage set for organized labor's survival?
§1.02 Board elections: Resurgence or irrelevance?
§1.03 The corporate campaign: The challenge of the decade
§1.04 Why preserve management rights and resist unionization?
§1.05 About the "Employer's Guide"
Chapter 2. Employment in The 21st Century
§2.01 A changing workplace
§2.02 A changing workforce
§2.03 An evolving culture of work
§2.04 The political landscape
§2.05 Challenges ahead for organized labor
§2.06 Enduring organizing threats
Chapter 3. The "Preferred" Employer
§3.01 The "preferred" employer
§3.02 The preventive self-audit: An essential exercise
§3.03 Staying conflict-free
§3.04 Employee communications programs
§3.05 Ensuring compliance
§3.06 Corporate labor relations strategy
Chapter 4. Elements of Effective Employee Relations
§4.01 The corporate culture
§4.02 Work rules
§4.03 Employee handbooks
§4.04 Employee participation programs
§4.05 Progressive discipline
§4.06 Resolving employee complaints
§4.07 Alternative dispute resolutions programs
§4.08 Supervisory and managerial training
§4.09 Illustrations 1 – 4
Chapter 5. Anticipating a Union Campaign
§5.01 Assessing your vulnerability
§5.02 Expressing opposition to a union
§5.03 Manager training on the law of organizing
§5.04 Bargaining unit vulnerability analysis
§5.05 Recognizing the early warning signs
§5.06 Preempting the union's message
Chapter 6. Understanding the New Union Movement
§6.01 Introduction
§6.02 The dual-front union movement
§6.03 Change to Win and the modern template for organizing: not always smooth sailing
§6.04 The AFL-CIO embraces the new model
§6.05 Organizing under the new model
§6.06 Embracing new demographics
§6.07 Embracing new models for organizing
§6.08 Embracing new tactics and technologies
§6.09 A national–or global–approach
§6.10 Conclusion
Chapter 7. The Old Model: Enduring Tools for Organizing
§7.01 A foot in the door
§7.02 The organizational meeting
§7.03 Traditional arguments
§7.04 Other organizing techniques
Chapter 8. Contemporary Organizing Techniques
§8.01 Corporate campaigns
§8.02 Industry-wide campaigns
§8.03 Neutrality agreements
§8.04 Voluntary recognition
§8.05 Framework agreements
§8.06 Another word on unlawful recognition
Chapter 9. The Corporate Campaign: What to Expect
§9.01 Introduction
§9.02 Company research and profiling
§9.03 Inside labor pressure
§9.04 Unfair labor practice charges
§9.05 The court of public opinion
§9.06 Legislative initiatives
§9.07 Litigation as weapon
§9.08 Other pressure tactics
Chapter 10. The Employer Counter-Offensive
§10.01 Introduction
§10.02 Rejecting card-check
§10.03 Questioning union support
§10.04 A campaign, not "interference"
§10.05 Investigate, then educate
§10.06 Educating employees
§10.07 Avoiding unfair labor practices
§10.08 Tactical legal approaches
§10.09 Strike preparation and response
§10.10 External counter-organizing resources
§10.11 When the dust settles . . .
§10.12 Illustrations 1 – 2
Chapter 11. Communicating Your Message
§11.01 Introduction
§11.02 Employer's right to free speech
§11.03 Internal communication strategies
§11.04 The arsenal of communications techniques
§11.05 External communications
§11.06 Illustrations 1 – 7
Chapter 12. Managing Pro-Union Communication
§12.01 Introduction
§12.02 Implementing valid work rules
§12.03 A lawful no-solicitation rule
§12.04 Solicitation in working areas
§12.05 Distribution of literature
§12.06 Organizing by off-duty employees
§12.07 Other union-related activity
Chapter 13. The Board Conducted Election
§13.01 Processing the representation petition
§13.02 Bargaining unit determination
§13.03 Election agreements
§13.04 Employee names and addresses
§13.05 Voter eligibility
§13.06 Mail ballot elections
§13.07 The on-site election
§13.08 Policing the polls
§13.09 Counting the ballots
§13.10 Two-union contests and run-off elections
§13.11 Illustrations 1 – 2
Chapter 14. Restoring Management Rights
§14.01 Voter challenges
§14.02 Election objections
§14.03 Procedure for filing objections
§14.04 Board review
§14.05 Decertification petitions
§14.06 The employer's campaign
§14.07 If the union wins
§14.08 Illustrations 1 – 2
Appendices
Union Members in 2012, Bureau of Labor Statistics, U.S. Department of Labor
A counter-campaign play-by-play
Notification of Employee Rights Under the National Labor Relations Act; Final Rule
NLRB Memorandum: Frequently Asked Questions—Board's Notice Posting Rule
Posters: Employee Rights Under the National Labor Relations Act
NLRB Representation—Case Procedures; Final Rule
NLRB Memorandum: Guideline Memorandum Concerning Collyer Deferral Where Grievance-Resolution Process is Subject to Serious Delay
NLRB Report: Report of the Acting General Counsel Concerning Social Media Cases, August 18, 2011
NLRB Report: Report of the Acting General Counsel Concerning Social Media Cases, January 24, 2012
NLRB Report: Report of the Acting General Counsel Concerning Social Media Cases, May 30, 2012
Labor-Management Reporting and Disclosure Act; Interpretation of the "Advice Exemption; Proposed Rule
Glossary
Table of Cases
Index