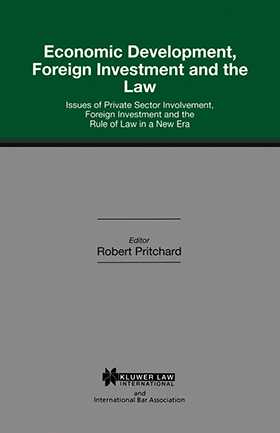 Economic Development, Foreign Investment and the Law
Format
Hardbound
Hardbound
Available: Ships in 3-5 Business Days
Price
This product is available for the standing order program.
Add to Cart
Full Title:
Economic Development, Foreign Investment and the Law
Promoting Economic Development through Private Sector Involvement, Foreign Investment and the Rule of Law
This new publication was inspired by the desire to commemorate the 25th Anniversary of the founding of the Section on Business Law of the International Bar Association. Practising lawyers from all over the world have contributed to this book with their knowledge and expertise.
The issues involved in the economic development process have been pursued with a practical approach. Bearing in mind that the legal system of each country is unique, that many countries are currently undergoing major programmes of legal reform, and that most development issues are country-specific, this study does not make any claim to comprehensiveness or coherency of treatment.
If the book helps to accelerate reform efforts, it will have achieved a useful purpose. It is hoped that it will serve as a source of practical information for a wide range of people interested in the legal aspects of development and investment issues, including the special issues associated with the use of foreign capital.
| | |
| --- | --- |
| Last Updated | 03/01/1996 |
| Update Frequency | As Needed |
| Product Line | Kluwer Law International |
| ISBN | 9789041108913 |
| SKU | 10059018-0001 |
The Notion of Sovereignty Confronts a New Era
The Scope of New Investment Laws and International Instruments
Legal System Reform and Private Sector Development in Developing Countries
Privatization and Private Provision of Infrastructure
Constitutional and Legislative Safeguards for FDI: A Comparative Review Utilising Australia and China
Taxation Policy
International Environmental Law and Policy
Development Agreements with Host Governments
The Use of Joint Ventures in FDI
Issues in Project Finance
Dispute Resolution