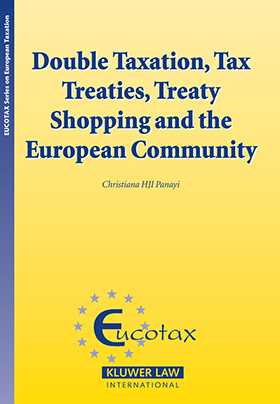 Double Taxation, Tax Treaties, Treaty Shopping and the European Community
Hardbound
Available: Ships in 3-5 Business Days
This product is available for the standing order program.
Add to Cart
Double taxation is unquestionably a problem in the European Community and one that must be dealt with urgently. Not only does it create economic distortions and breach the principle of neutrality of taxation but it also constitutes a major obstacle to international trade decreasing the economies of scale for investors wishing to venture beyond their national boundaries. Arguably, it is a problem that challenges the very essence of the common market. This book cogently examines a number of critical issues stemming from double taxation in the European Union:
The problem of juridical double taxation and how tax treaties have been used to mitigate it.
How a federation of fiscally independent states such as the United States has dealt with double taxation and tax location shopping the latter as an analogue to treaty-shopping.
The European Union's attitude to juridical double taxation and tax treaties.
Whether treaty-shopping practices might in fact enjoy the protection of fundamental freedoms and whether anti-treaty-shopping provisions restrict the application of such freedoms.
| | |
| --- | --- |
| Resources | DM Piece |
| Last Updated | 09/12/2007 |
| Product Line | Kluwer Law International |
| ISBN | 9789041126580 |
| SKU | 10059008-0001 |
Introduction.
Chapter 1
. Jurisdiction to Tax, Double Taxation and Tax Treaties.
Chapter 2
. Tax Treaties and Treaty-Shopping.
Chapter 3
. Multistate Taxation and Tax Location Shopping in the US.
Chapter 4
. Double Taxation and Tax Treaties in the European Community.
Chapter 5
. Treaty-Shopping in the European Community. Double Taxation, Tax Treaties, Treaty-Shopping and Community Law: Final Thoughts.. Appendix. Bibliography. Reports-Documents. Table of Cases.