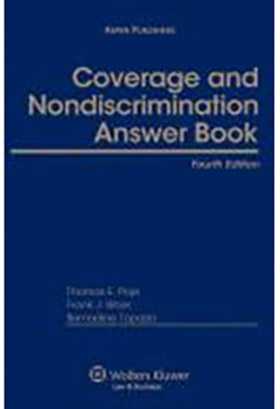 Coverage and Nondiscrimination Answer Book, Fourth Edition
Select Format
Internet price is for a three-month subscription.
Hardbound
Available: Ships in 3-5 Business Days
This product is available for the standing order program.
Add to Cart
Internet
Includes 3-month access for one license. Need a demo or annual access?
Contact Sales
Add to Cart
Please note, once you complete your purchase, Cheetah registration instructions and login credentials to access your 3-month online subscription will be emailed to you within one business day.
Coverage and Nondiscrimination Answer Book is the first reference guide that focuses exclusively on the participation, coverage, nondiscrimination, and compliance requirements that must be met to ensure a plan's qualified status. This book is designed to help plan sponsors and administrators, as well as benefits professionals, attorneys, and consultants, cope with the complicated requirements of compliance testing.
The practical guidance, regulatory and legislative updates, and detailed analysis in Coverage and Nondiscrimination Answer Book will assist pension professionals in managing all aspects of coverage and nondiscrimination testing and compliance.
Coverage and Nondiscrimination Answer Book uses straightforward language and avoids technical jargon whenever possible. Citations to authority, particularly the Internal Revenue Code, are provided as research aids for those who wish to pursue particular items in greater detail.
Coverage and Nondiscrimination Answer Book will help you:
Understand the impact of EGTRRA on coverage and nondiscrimination testing
Discover methods of plan design that avoid the need for most coverage and nondiscrimination testing
Determine which entities comprise an "employer" for qualified plan purposes
Craft employee census and data requests that capture the information essential to accurate testing
Perform all required compliance tests accurately
Be aware of corrective measures available and the time frame for these corrections
Design plans or combinations of plans that favor certain targeted employees
Know the benefits of applying for a determination letter
Complete required schedules needed to request a determination letter from the IRS
Coverage and Nondiscrimination Answer Book offers real-life examples, charts, and illustrations in a concise format. It provides specific tools and answers such frequently occurring questions as:
Do I have a controlled group situation?
Is my plan providing meaningful benefits?
And more!
Coverage and Nondiscrimination Answer Book has been updated to include coverage of:
Increased IRS compensation and deferral limits and how they are derived
Information regarding procedures for obtaining opinion and advisory letters for Section 403(b) preapproved plans
Information regarding the Internal Revenue Service program to send compliance letters to organizations to solicit information regarding the design and operation of the organizations' 457(b) plans
IRS regulations pertaining to the mid-year elimination of safe harbor nonelective contributions, provided the possibility of this event was noted in the safe harbor notice
Updated IRS and Social Security Cost-of-Living Adjustments, including Puerto Rican Plan Limits
The latest version of Publication 571, Tax Sheltered Annuity Plans, for employees of public schools and certain tax-exempt organizations
Note: Online subscriptions are for three-month periods.
1. Overview of Compliance Testing

EGTRRA/PPA
The Compliance Tests
Data Collection

2. Defining the Employer

Controlled Groups
Affiliated Service Groups
Ownership/Attribution
Organizational Structures
Multiple Employer Plan
Foreign Entities

3. Defining the Employee

Purpose
Defining the Term Employee
Highly Compensated Employees
Leased Employees
Shared Employees
Misclassification of Workers
Self-Employment Issues

4. Defining Compensation

Annual Compensation Limit
Section 415 Compensation
Section 414(s) Compensation
Highly Compensated Employees/Key Employees
Compensation for Section 404 Deductible Contributions
Earned Income
Plan Compensation
Compensation Used for Nondiscrimination Testing
Compensation Used for Permitted Disparity
Imputed Compensation
Alternative Forms of Compensation

5. Minimum Participation Requirements

Special Rules
Meaningful Benefits
The Employees
Corrections

6. Coverage Testing

Plan Participation Eligibility
Benefiting Employees
Ratio Percentage Test
Average Benefits Test
Special Coverage Testing Rules
Correcting a Failed Coverage Test

7. Safe Harbor Plans

Defined Benefit Safe Harbors
Defined Contribution Safe Harbors
Target Benefit Plans
Floor-Offset Plans
Social Security Offset Plans

8. The General Test

Compensation
Testing Age
Measurement Period
Rate Groups
Testing a Defined Benefit Plan
Testing a Defined Contribution Plan
Former Employees

9. Benefits, Rights, and Features in a Qualified Plan

401(k) Plans
Current Availability
Effective Availability
Life Insurance
Amendments

10. Permitted Disparity

Integrating Defined Contribution Plans
SEPS
Integrating Defined Benefit Plans
Social Security, Disability Factors, and Other Adjustments
Cumulative Disparity Limit
Imputed Permitted Disparity

11. Cross Testing

The Cross-Testing Process
Age-Weighted Plan
New Comparability Plan
Aggregating Defined Benefit/Defined Contribution Plans
Testing Data
Target Benefit Plan

12. Nondiscrimination Testing for 401(k) Plans

Types of Contributions in a 401(k) Plan
Other Contributions
Qualified Nonelective and Matching Contributions
Actual Deferral Percentage Test
Actual Contribution Percentage Test
Prior Year Testing Versus Current Year Testing
Safe Harbor
Corrections and Adjustments
Additional Testing Rules
Factors That Affect Test Results
Catch-Up Contributions
Testing Mechanics
Multiple Use Test

13. Code Section 403(b) and 457(b) Plans

Coverage and Nondiscrimination Testing
Notice 89-23 Nondiscrimination Testing Safe Harbors
Compensation
457 Plans

14. Applying for a Determination Letter; Reporting and Disclosure

Determination Letters in General
Scope of a Determination Letter
Applying for a Determination Letter
Notice to Interested Parties
Special Determinations
Types of Plans
Plan Amendments
Annual Disclosure
Summary Plan Descriptions

15. Correcting Coverage and Discrimination Defects

Employee Plans Compliance Resolution System (EPCRS)
Self-Correction Program (SCP)
Voluntary Correction Program with Service Approval (VCP)
Anonymous Submission Procedure (John Doe)
Voluntary Correction of Group Failures
EPCRS Application Process
EPCRS Review/Correction Process
EPCRS Fees
Audit Closing Agreement Program

16. Aggregating, Disaggregating, and Restructuring Plans

Aggregation
Restructuring
Mandatory Disaggregation
Benefits, Rights, and Features
Defined Benefit-Defined Contribution Combination Plans

17. Top-Heavy Plans

Key Employees
Determining Top-Heavy Status
Vesting
Minimum Accruals/Allocations

18. Annual Addition and Benefit Limits under Code Section 415

EGTRRA
Defined Contribution Plans
Defined Benefit Plans

19. Governmental Plans and Church Plans

Governmental Plans
Church Plans
457 Plans

20. Testing Puerto Rican and Foreign Plans

Puerto Rican Plans
Foreign Plans

21. Davis-Bacon Plans

Prevailing-Wage Issues
Fringe Benefits
Compliance Procedures and Rules

APPENDIX A. Sample Employer General Information Form
APPENDIX B. IRS Audit Guidelines
APPENDIX C. Revenue Procedure 2006-27, Appendices A and B
APPENDIX D. Revenue Procedure 2006-27, Appendices A and B
APPENDIX E. Publication 571
APPENDIX F. Schedule Q Demos
APPENDIX G. Checklists for SIMPLE, SEP and 403(b) Plans
APPENDIX H. EGTRRA Changes Affecting 403(b) and 457 Plans
APPENDIX I. 403(b) and 401(k) Plans: A Comparison
APPENDIX J. Eligibility for Self-Correction Programs (SCPs)
APPENDIX K. Worksheets: Top-Heavy List and Annual Additions Limit
APPENDIX L. Davis-Bacon Resource Book: Fringe Benefits
APPENDIX M. IRS and Social Security Cost-of-Living Adjustments 2004–2007
APPENDIX N. IRS Memorandum of October 22, 2004 Regarding Short Service Employees and Other Meaningful Benefit Schemes and Abuses and the IRS Response to Concerns Regarding the Memorandum
APPENDIX O. Chart Comparison Between Plan Qualification Requirements Under theCode and PRIRC
Glossary