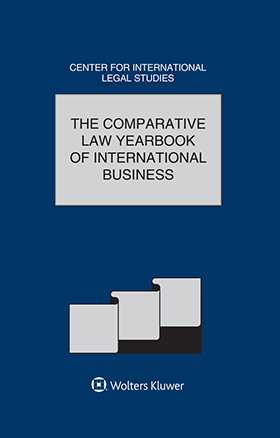 Comparative Law Yearbook of International Business Volume 37 2015
Format
Hardbound
Hardbound
Available: Ships in 3-5 Business Days
Price
This product is available for the standing order program.
Add to Cart
Comparative Law Yearboook Series Volume 37
The thirty-seventh issue of the Comparative Law Yearbook of International Business examines current issues and developments under the broad headings of finance and investment, corporate law, contracts, and dispute resolution. In the finance and investment section, practitioners examine issues relating to the recapitalization of Greek systemic banks, foreign investment in Brazil's healthcare sector, and Spain's Venture Capital Act. The acquisition of companies in Peru and the "responsible corporate officer" doctrine are examined in the corporate law section. In the contracts section, lawyers discuss remedies for breach of contract in Brazil, Italian contractual aspects of cloud computing, incorporating UNIDROIT principles into international commercial contracts, and setting up distribution channels in Brazil. Four subject areas are considered under the dispute resolution heading: expert determination in merger and acquisition disputes, the enforcement of international arbitral and judicial decisions, the recognition and execution of foreign arbitral awards in Cyprus, and investor-state arbitrations.
| | |
| --- | --- |
| Pages | 312 |
| Last Updated | 09/24/2015 |
| Update Frequency | Annually |
| Product Line | Kluwer Law International |
| ISBN | 9789041159373 |
| SKU | 10057420-0039 |
Finance and Investment
Recapitalization of Greek Systemic Banks George B. Bazinas, Yiannis G. Sakkas and Athanasios D. Paizis
Foreign Investment in Brazil's Healthcare Sector Ricardo Barretto Ferreira da Silva and Camila Taliberti Ribeiro da Silva
Spain's Venture Capital Law Joaquín Sales and Luis Villalba
Corporate Law
Acquisition of Companies in Peru Guilhermo Auler
Responsible Corporate Officer Doctrine David Haron and Sara Winik
Contracts
Remedies for Breach of Contract in Brazil André de Luizi Correia
Italian Contractual Aspects of Cloud Computing Gabriele Ferrante
Incorporating UNIDROIT Principles into International Commercial Contracts Vincent R. Johnson
Setting Up Distribution Channels in Brazil André de Godoy Fernandes, Marina Amaral E. de Carvalho and Camila Gurgel F. de Guglielmo
Dispute Resolution
Expert Determination in Merger and Acquisition Disputes Dan Terkildsen and David Svante Hansen
Enforcement of International Arbitral and Judicial Decisions Mikhail Mekler
Recognition and Execution of Foreign Arbitral Awards in Cyprus Chrysthia N. Papacleovoulou
Investor-State Arbitrations Robert Neron
Index