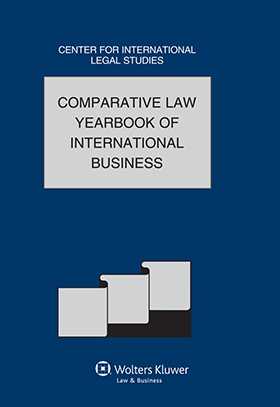 Comparative Law Yearbook International Business 2011 Vol 33
Format
Hardbound
Hardbound
Available: Ships in 3-5 Business Days
Price
This product is available for the standing order program.
Add to Cart
The thirty-third edition of the Comparative law Yearbook of International Business deals with specific issues ranging from arbitration, company law, and consumer protection to employment law and financial law. comprising 14 articles.
A further five articles examine legal aspects of doing business, establishing joint ventures, civil and commercial obligations, and intellectual property issues in particular jurisdictions. A final article considers international development banks.
Jurisdictions treated are
Argentina,
Austria,
Brazil,
China,
Colombia,
The Czech Republic,
Estonia
France,
Guatemala,
Hungary,
Italy,
Japan,
Korea,
Romania,
Slovakia,
Slovenia,
Spain,
Turkey,
and the United States.
| | |
| --- | --- |
| Last Updated | 12/27/2011 |
| Update Frequency | Annually |
| Product Line | Kluwer Law International |
| ISBN | 9789041133632 |
| SKU | 10057420-0031 |
Arbitration
Arbitration Law Developments in Singapore Austin I. Pullé
Developments under the Federal Arbitration Act Michael R. Lied
Company Law
Acquisition of Equity Interests in Italian Companies Fiorella F. Alvino
The French Perspective on Company Duties in a Transfer of Undertakings Leila Hamzaoui and Paul Clair
Key Aspects of Crossborder Mergers and Acquisitions in Brazil Guilherme Leite and Aloísio Matos
Laws and Regulations on International Mergers and Acquisitions in Japan Reiko Nagata Turkey's Merger Control Regime Nese Tasdemir Onder
Consumer Protection
Consumer Protection in Spain Javier Gutierrez
Consumer Protection in Argentina Esteban Rópolo, Santiago Capparelli, and Francisco Fernández Rostello
Employment Law
Concealed Employment in Selected Jurisdictions Tereza Erényi, Tomáš Liškutín, Peter Varga, and Kinga Zempléni
Labor and Employment Law and Pensions in Austria Friedrich Schwank
Financial Law
Key Amendments in the New Austrian Insolvency Code Martina Ráczová, Florian Meister, and Otto Wächter
Financial Collateral in Slovenian Law Miha Juhart
Comparative Analysis of the Newly Enacted Korean Security Rights Registration Act Woo-Jung Jon
Inspection Mechanisms of International Development Banks Katarína Chovancová
General
Doing Business in Guatemala Alfonso Carrillo M.
Legal Aspects of Doing Business in Estonia Imbi Jürgen, Tanel Tark, and Hannes Küün
Civil and Commercial Obligations under the New Romanian Civil Code Cornel Popa and Anca Puscasu International Joint Ventures in Colombia Natalia Tobón
United States–China Relations on Intellectual Property Issues Michael-John Voss
Index