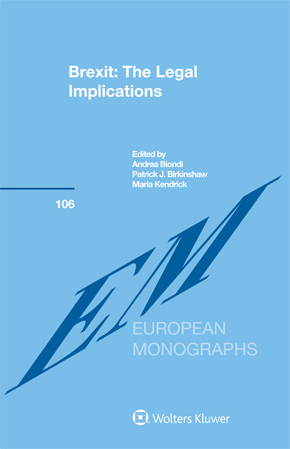 Brexit: The Legal Implications
Format
Hardbound
Hardbound
Available: Ships in 3-5 Business Days
Price
This product is available for the standing order program.
Add to Cart
Brexit: The Legal Implications brings to notice the challenges, options, opportunities and possibilities that Brexit may bring in the legal areas. If Brexit comes to pass, what changes in the United Kingdom (UK) legal system will the world face when dealing with the UK? The contributors to this penetrating new collection of studies – a worthy successor to the widely read pre-referendum Britain Alone! – bring a prodigious level of expert scrutiny to the myriad of ramifications of this hugely complex subject. This book gathers together experts from different fields of legal practice and academia not only to discuss the ongoing negotiations but also – and most valuably – to highlight and address the legal implications of possible scenarios and solutions for a post-Brexit UK and European Union.
What's in this book:
With topical chapters based on the Brexit Seminar Series held by the Centre of European Law at King's College, the contributors examine the likely effects of the Brexit process in such areas as the following:
constitutional and administrative law;
the European Economic Area and the European Free Trade Association;
EU State aid;
the Irish border;
the fall-back position of the WTO rules should no agreement be achieved;
banking law, financial services and capital markets;
debt restructuring and insolvency practice;
environmental issues;
private international law;
tax;
citizenship;
social security; and
residence rights, especially considering women and children.
How this will help you:
Due to the unprecedented event that Brexit represents, there is an insatiable need for knowledge and technical detail as to its possible legal implications. This book establishes the required literature in this regard and thereby helps the readers in comprehending what lies ahead. In its thorough analysis of the ongoing Brexit process and the technical understanding of the meaning of Brexit for several substantive areas of law, this book offers a solidly grounded and revealing exploration of the future that is particularly enlightening in explaining the challenges that the UK legal order is facing as a consequence of Brexit.
| | |
| --- | --- |
| Pages | 328 |
| Last Updated | 11/30/2018 |
| Update Frequency | As Needed |
| Product Line | Kluwer Law International |
| ISBN | 9789041195401 |
| SKU | 10059182-0001 |
Editors
Contributors
Editors' Note
Introduction
Giuliano Amato
CHAPTER 1
Negotiating Brexit and Dissolving the Legal Union
Patrick J. Birkinshaw
CHAPTER 2
The Future Is Not What It Used to Be: Some Reflections on the UK and the EEA
Dóra Sif Tynes
CHAPTER 3
The Swiss Model of European Integration
Matthias Oesch
CHAPTER 4
A Complicated Relationship: The UK in the WTO at the Time of Brexit
Maria Laura Marceddu
CHAPTER 5
Brexit and Ireland/Northern Ireland
Colin Harvey & Amanda Kramer
CHAPTER 6
Differentiated Integration Amongst the EU27: Will Brexit Make the EU More Flexible?
Maria Kendrick
CHAPTER 7
State Control in a Post-Brexit UK
Andrea Biondi & Elisabetta Righini
CHAPTER 8
Brexit and Arbitration
Renato Nazzini
CHAPTER 9
The Impact of Brexit on Debt Restructuring and Insolvency Practice
Manuel Penades Fons & Michael Schillig
CHAPTER 10
Tax Disputes in the UK after Brexit
Kelly Stricklin-Coutinho
CHAPTER 11
Brexit and Direct Taxation
Phillippe Malherbe
CHAPTER 12
Brexit: Consequences for Capital Markets
Dorothee Fischer-Appelt
CHAPTER 13
Corporate Law and Brexit
Jessica Schmidt
CHAPTER 14
Brexit and Communications
Beniamino Caravita
CHAPTER 15
The Impact of Brexit on Competition Law in the United Kingdom
Kieron Beal QC
CHAPTER 16
Britain's Social Security System: Alone after Brexit?
Grega Strban
CHAPTER 17
Residence Rights after Brexit: Women and Children in the Eye of the Administrative Storm
Charlotte O'Brien
CHAPTER 18
The Future of Environmental Governance in the (Dis-)United Kingdom
Colin T. Reid
CHAPTER 19
Implications of 'Brexit' for the Enforcement of Environmental Law in England and Wales
Robert McCracken QC
CHAPTER 20
BREXIT and Environmental Law
Richard Macrory
A Coda
Patrick J. Birkinshaw
Index