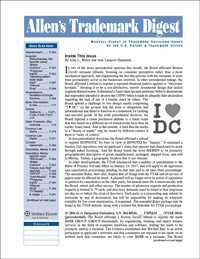 Allen's Trademark Digest
Select Format
Internet price is for a three-month subscription.
Journal
Internet
Journal
Available: Ships in 3-5 Business Days
Price
This product is available for the automatic renewal program.
Add to Cart
Internet
Price
Includes 3-month access for one license. Need a demo or annual access?
Contact Sales
Add to Cart
Please note, once you complete your purchase, Cheetah registration instructions and login credentials to access your 3-month online subscription will be emailed to you within one business day.
Allen's Trademark Digest from Aspen Publishers remains the only-professional journal that organizes, classifies and analyzes both published and unpublished decisions from the Trademark Trial and Appeal Board and Trademark Commissioner.
Delivered to your desk twelve times a year, Allen's Trademark Digest provides comprehensive and timely reporting of important trademark developments in a quick-reading, abstract format that busy lawyers appreciate.
With every issue, you get helpful analysis and practical commentary on essential trademark matters like these:
Descriptiveness
Dilution
Disclaimer
Estoppel
Family of Marks
Famous Marks
Genericness
Inherent distinctiveness
Laches
Likelihood of confusion
Secondary meaning
Surnames
Tacking
And more!
Note: Online subscriptions are for three-month periods.
| | |
| --- | --- |
| Update Frequency | Monthly |
| Product Line | Wolters Kluwer Legal & Regulatory U.S. |
| SKU | 000000000010041719 |
| | |
| --- | --- |
| Publish Frequency | Monthly |
| Product Line | Wolters Kluwer Legal & Regulatory U.S. |
| SKU | 000000000010071730 |