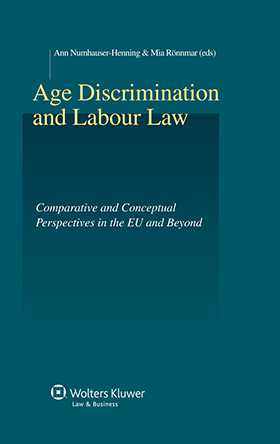 Age Discrimination and Labour Law. Comparative and Conceptual Perspectives in the EU and Beyond
Format
Hardbound
Hardbound
Available: Ships in 3-5 Business Days
Price
This product is available for the standing order program.
Add to Cart
Studies in Employment and Social Policy Series Volume 47
Benefit from the first in-depth study of the special complexities of the ban on age discrimination. Age Discrimination and Labour Law. Comparative and Conceptual Perspectives in the EU and Beyond, presents a detailed investigation of age discrimination from the dual perspectives of labour law and non-discrimination law.
Ensure that you have a full understanding of the latest global developments with the topical discussion and analysis of EU law and the national law in a representative range of Member States. The richly detailed comparative approach also examines developments in Australia, Japan, Latin America, South Africa, and the United States.
Distinguished scholars in the fields of non-discrimination law and labour law contribute comparative and conceptual analyses as well as details of national developments, delivering informative guidance to support your practice.
How will Age Discrimination and Labour Law. Comparative and Conceptual Perspectives in the EU and Beyond benefit my practice?
Defend or prosecute age discrimination cases with all available legal strategies
Develop a clear understanding of the commonalities and differences in age discrimination law among representative jurisdictions
Gain insight into the emerging global trends affecting the ban on age discrimination
The particular emphasis on the extensive, dynamic, and controversial case law of the Court of Justice of the EU and its implications will ensure practical understanding. Topics addressed include the following:
precarious and vulnerable workers;
employers' justification of differences in treatment;
how the goal of 'active ageing' can be used to weaken employment protection
the dangers of intergenerational conflict and economic unsustainability.
Age Discrimination and Labour Law. Comparative and Conceptual Perspectives in the EU and Beyond is sure to be greatly valued by practitioners, policymakers, and academics in a number of relevant fields.
| | |
| --- | --- |
| Pages | 520 |
| Last Updated | 06/10/2015 |
| Update Frequency | As Needed |
| Product Line | Kluwer Law International |
| ISBN | 9789041149794 |
| SKU | 10058830-0001 |
List of Contributors
Preface
PART I Introduction
Chapter 1 Introduction Ann Numhauser-Henning & Mia Rönnmar
Chapter 2 Entry and Exit Patterns from the Labour Force: A European and Life-course Perspective Dominique Anxo
PART II General Issues and EU Law Developments
Chapter 3 Constitutional and Fundamental Rights Aspects of Age Discrimination Colm O'Cinneide
Chapter 4 Proportionality in Age Discrimination Cases: Towards a Model Suitable for Socially Embedded Rights Dagmar Schiek
Chapter 5 EU Age Discrimination Law and Older and Younger Workers: Court of Justice of the European Union Case Law Development Christa Tobler
Chapter 6 Labour Law, Pension Norms and the EU Ban on Age Discrimination:
Towards Ultimate Flexibilization?
Ann Numhauser-Henning
Chapter 7 An Intersectional Approach to Age Discrimination in the European Union: Bridging Dignity and Distribution? Judy Fudge & Ania Zbyszewska
PART III National Law Developments
Chapter 8 Age Discrimination and Labour Law in Finland: Legal Treatment of Younger and Older Workers in Ageing Society Kevät Nousiainen
Chapter 9 Age Discrimination and Labour Law in France Sophie Robin-Olivier
Chapter 10 Age Discrimination and Labour Law in Germany Monika Schlachter
Chapter 11 Age Discrimination and Labour Law in Lithuania Tomas Davulis
Chapter 12 Age Discrimination and Labour Law in the Netherlands Evert Verhulp & Eva Herdé
Chapter 13 Age Discrimination and Labour Law in Poland Leszek Mitrus
Chapter 14 Age Discrimination and Labour Law in Spain: The Vision from the South Julia López López & Chelo Chacartegui
Chapter 15 Age Discrimination and Labour Law in Sweden Jenny Julén Votinius
Chapter 16 Age Discrimination and Labour Law in the UK: Managing Ageing Catherine Barnard & Simon Deakin
Chapter 17 Age Discrimination and Labour Law in Australia: An Ambivalent Commitment to Equality in the Face of a Demographic Imperative Therese MacDermott & Joellen Riley
Chapter 18 Age Discrimination and Labor Law in Japan: An Alternative Approach to Age Discrimination Law in a Most Rapidly Ageing Country? Takashi Araki
Chapter 19 Age Discrimination and Labour Law in Latin America: The Challenges of Equality Law in Light of Underdevelopment Sergio Gamonal C. & César F. Rosado Marzán
Chapter 20 Age Discrimination and Labour Law in South Africa: Intersectional and Intergenerational Challenges Nicola Smit
Chapter 21 Age Discrimination and Labor Law in the United States Gillian Lester
PART IV Conclusion
Chapter 22 Age Discrimination and Labour Law: A Comparative Analysis Mia Rönnmar
Chapter 23 Concluding Discussion Ann Numhauser-Henning & Mia Rönnmar
Index